Merkel Enters Final Act Determined to Defend Immigration Stance
(Bloomberg) -- German Chancellor Angela Merkel called for tolerance in a city that's been a flashpoint of anti-immigrant unrest, laying down a political marker that may lead to conflict during the final phase of her chancellorship.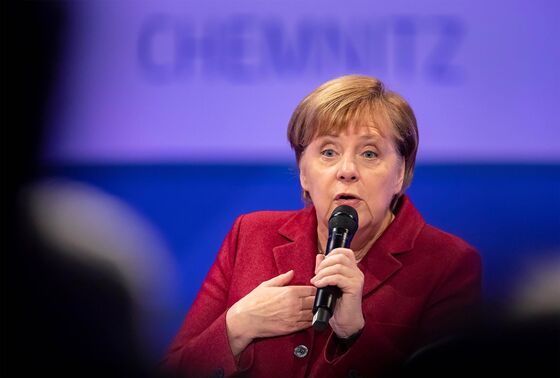 As far-right protesters organized a "Merkel Must Go" march, the chancellor faced hostile questions on a visit to the eastern city of Chemnitz. Meanwhile, her Christian Democrats are debating a shift away from her legacy to win back voters from the nationalist Alternative for Germany.
Such a move would make life more difficult for Merkel, who will quit as party leader in December but intends to serve out her fourth term, which ends in 2021. At a town hall, she stuck to her convictions when a resident asked about crime blamed on migrants, including a fatal stabbing in Chemnitz last summer.
"The outrage, which I find understandable, doesn't justify committing further acts of violence," Merkel said. "We're trying to learn lessons from terrible events step by step. But we also have to be careful not to put these people under blanket suspicion."
Candidates to succeed Merkel as party leader are grappling with her decision to keep German borders open to refugees in 2015 and 2016, which cost the CDU votes and eroded her authority. Her most formidable critic among the contenders, Friedrich Merz, said Thursday that he'd halve support for the far right if party delegates elect him chairman on Dec. 7.
Merkel, who has been in office for 13 years, increasingly antagonized members of her CDU and its Bavarian sister party by insisting her response to the biggest refugee influx since World War II was right, even as the Alternative for Germany party made her the prime target in last year's election. At Friday's town hall, she acknowledged her role in unusually frank terms.
"I know from the election campaign that my face is polarizing for many," said Merkel.
Several members of the audience harshly criticized Merkel's refugee policy and asked her when she would also quit as chancellor. She rebuffed the notion, saying she was duly elected.
"I think we should respect such a democratic decision by the people," Merkel said.
The Chemnitz stabbing in August crystallized the German public's anxiety about immigration, which has been a thorn in Merkel's side since 2015. Far-right protests erupted in the city after the suspects were identified as asylum seekers, triggering clashes with counter-demonstrators.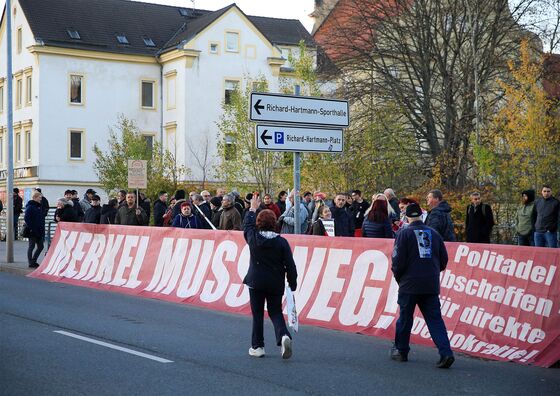 Responding to video of demonstrators apparently chasing dark-skinned men through the city's streets, Merkel's spokesman, Steffen Seibert, condemned the "hounding" of foreigners.
That, in turn, spurred accusations from the political right that such language demeaned protesters exercising the right to free speech. Germany's domestic intelligence chief said in an interview that some images may not have been authentic, leading to another round of political fallout when the coalition parties struggled to agree on how to respond.
By October, public frustration with the governing parties translated into losses in regional elections in Bavaria and Hesse, where support plummeted for Merkel's Christian Democratic Union, her Bavarian allies and the Social Democrats.
On Oct. 29, the chancellor stunned the political world by saying she'll step down as CDU chairwoman, setting off a leadership contest. She also said her current term would be her last.