Merkel Supports Weber for European Commission President
(Bloomberg) -- German Chancellor Angela Merkel voiced her full support for Manfred Weber, head of the Christian Democrats in the European Parliament, to succeed Jean-Claude Juncker as commission president after European elections in May.
At the same time, she called on the CDU and its Bavarian sister party, the CSU, to overcome internal divisions before decisive state elections in Bavaria and Hesse later this month.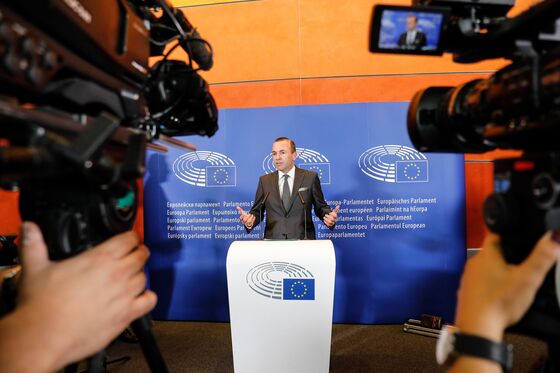 Manfred Weber "has the chance to become commission president," Merkel said on Saturday at a convention of the CDU/CSU youth organization in the northern German city of Kiel. "We should support him with all our heart," she stressed.
"This has to be our goal once again. Since Hallstein, we have not had a commission president," she said, referring to Walter Hallstein, the CDU politician who became head of the European Economic Community, the forerunner to the EU, in 1958.
When Weber announced his candidacy for the European People's Party for the EU election in September, Merkel voiced her support much more carefully, saying it was "time to see whether further EPP candidates come forward." Regarding Weber's goal of becoming European Commission president, she said "there are many steps to get through to get there."
The EPP will choose its lead candidate for the European elections in November in Helsinki. Former Finnish Prime Minister Alexander Stubb has meanwhile also announced his candidacy. The winner of the European elections will seek to become commission president, although the group of EU leaders will have the final word.
In view of falling polls before decisive state elections in Bavaria and Hesse, Merkel called on the CDU and CSU to hold course and show unity. "Before us lie very important state elections," she said. "We have to fight for good results in both these states."
In the latest poll by the public broadcaster ARD, the Bavarian CSU fell to a historic low of 33 percent.
Several members of the CDU/CSU youth organization once again blamed Merkel's refugee policy for the poor showing in the polls. Merkel defended her policy, but admitted that the performance of her governing grand coalition was disappointing. "These polls don't fall from heaven," she said. "They have an explanation."
In a slight against Merkel, a majority of the 1,000 delegates of the convention voted for a 12-year term limit for future chancellors. Merkel has been in power for almost 13 years. Her fourth term will officially end in 2021.