Merkel Successor Would Be Thrashed by Greens Leader, Poll Shows
(Bloomberg) -- Annegret Kramp-Karrenbauer's political prospects took another blow after a poll suggested the head of Germany's ruling Christian Democrats would be trounced in a direct election for chancellor by Robert Habeck, a co-leader of the surging Greens party.
Habeck would take 43% of the vote, more than twice as much as Kramp-Karrenbauer with 21%, according to a Civey poll published by Die Welt newspaper on Tuesday. Following a series of missteps, AKK's approval ratings have slumped since she succeeded Chancellor Angela Merkel as CDU leader in December.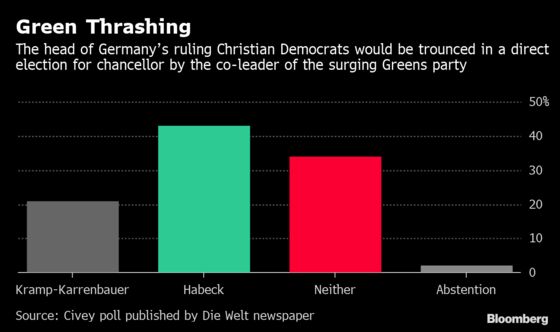 The Greens have tapped into a wave of disenchantment with the government's progress in tackling climate change and surged above the CDU for the first time in the latest Forsa poll. Following up on their triumph in last month's European elections, they added nine percentage points to 27%, while Merkel's CDU/CSU bloc slid to 26%.
The German political class was shaken on Sunday when the head of Merkel's junior coalition partner, the Social Democrats, unexpectedly quit. The ruling parties have pledged to continue their alliance for the time being, partly because they would lose further ground in a new election.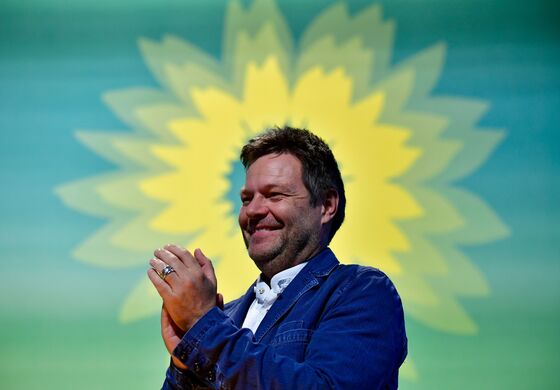 The rugged Habeck, with his shock of graying hair and unshaven face, has been co-leader of the Greens with Annalena Baerbock since last year. Civey surveyed 5,071 people on June 3 and 4, and the poll has a margin of error of plus or minus 2.5 percentage points.