Merkel Successor's Stumble Puts Germany's Direction in Doubt
(Bloomberg) -- Five months after Angela Merkel handed over the reins as her party's leader, the transition to her chosen successor as German chancellor is shrouded in uncertainty, and with it the direction of Europe's largest economy.
As Merkel's Christian Democratic-led bloc languishes at or under 30 percent ahead of the May 26 European election, her protege Annegret Kramp-Karrenbauer -- known as AKK -- has struggled to fit into her role as party chairwoman, according to three people familiar with the party's internal discussions.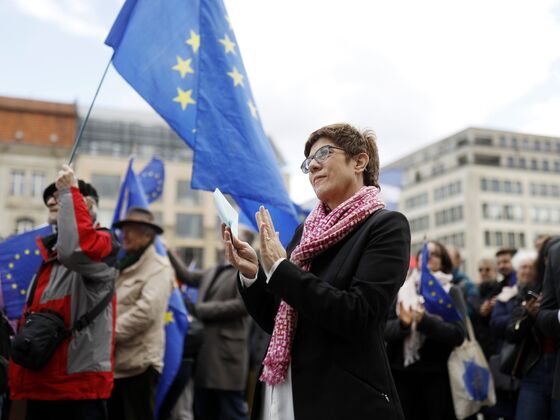 Fumbled overtures to the party's right flank, a contested lineup on the campaign trail and the scheduling of an extraordinary leadership meeting for early June have laid bare party tensions -- and prompted a flurry of speculation, including over Merkel's resignation.
While the chancellor was quick to rebuff the idea, the likelihood of a prolonged period of uncertainty in German politics has grown. Europe's engine flirted with recession at the end of last year and a lack of direction from the top could dent confidence as Germany starts to rebound from that slowdown.
"It looks like we will witness a state of political infirmity in Germany in the next two years," Ulrich Sarcinelli, a political scientist at the University of Koblenz-Landau, said in an interview. "AKK cannot simply take over from Merkel."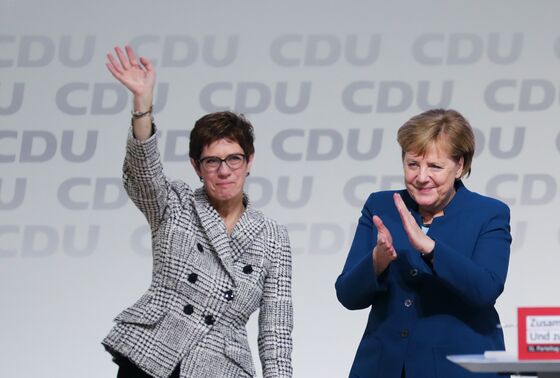 Merkel shook up Germany's political landscape last year by ceding the party leadership -- and appeared to score a victory after Kramp-Karrenbauer beat out a conservative rival. But since the transfer of power has failed to buoy the CDU, a limbo of sorts has emerged, in which the sitting chancellor has seen her authority diminished while her hamstrung successor is struggling to rally support.
The deadlock involves pitfalls for Kramp-Karrenbauer. An extended period as chancellor-in-waiting could take a toll on her momentum as a fresh political force. For Merkel, who has lost direct control over the party and her lawmakers in parliament, it means a long twilight to a chancellorship in its 14th year.
Before her shock October announcement, Merkel had insisted that the role of CDU leader and chancellor must go hand-in-hand, to ensure stability. She was forced to give ground on that principle after growing pressure following a string of regional ballot losses.
Indicative of the power split was an April 27 political rally in the western German city of Muenster. Kramp-Karrenbauer oversaw a public demonstration of unity, joined on stage by a pantheon of leaders from both the CDU as well as the CSU, the Bavarian sister party that's been a thorn in Merkel's side since the refugee crisis. Notably absent was Merkel, who stood by her pledge to not enter the campaign fray.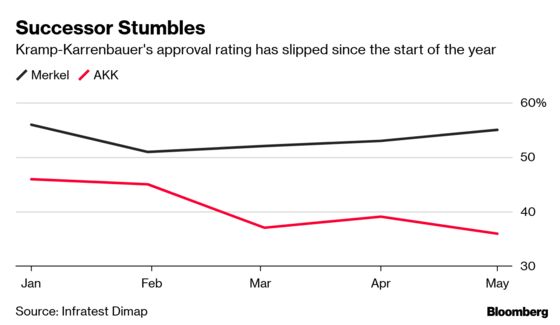 Merkel's distance wasn't meant as a snub, according to an official close to the chancellery. But her absence could be felt. Even in her political twilight, Merkel enjoys a 55 percent approval rating, according to a monthly Infratest poll that gave Kramp-Karrenbauer 36 percent. Invitations to Merkel to attend party events keep flowing in, the official said.
Yet no alternative to the status quo looks particularly likely -- either a snap election or a government led by Kramp-Karrenbauer -- in the current political constellation.
The left wing of the Social Democrats, Merkel's junior coalition partner, forcefully opposed the partnership with Merkel and continues to view it as a burden on the party. Calls to abandon the government could be revived if the party fares poorly in the European ballot or in the northern port city of Bremen, a federal state the SPD has governed since the end of World War II. Both elections are on May 26.
At the same time, the SPD has little interest in a snap election in which it could lose further ground to the resurgent Greens. The party's leadership is also unlikely to back a government led by Kramp-Karrenbauer. Installing a future campaign opponent into high office would amount to gifting her with a "chancellor's bonus."
The other options are a fresh attempt at a coalition with the Greens and the Free Democrats, or even a CDU-led minority government. The Greens, riding high in the polls, would shy away from the former -- and the latter is more likely a placeholder scenario before a new election.
Timing is also an issue. Germany will take over the European Council's rotating presidency in July 2020. To assure a steady chancellorship and help make Germany's six-month stint at the EU's helm a success, any big changes would have to come before that.
Given the risks and open questions, the prospect remains open for Merkel to coast out the rest of her term, albeit with volatility and her once-robust authority eroded.
Markets generally welcome Merkel as a "safe pair of hands," a force for stability over the German economy, according to Carsten Brzeski, chief economist at ING Germany. But risk factors include a political status quo through a period of stagnation or lukewarm growth.
"It will depend on all kinds of external circumstances to say whether this safe pair of hands is a good thing or a bad thing," Brzeski said in an interview.