Merkel Signals the Beginning of the End
After more than 13 years as chancellor of Germany, cornerstone of the European Union and at times even seen as the West's preeminent champion of democratic values, Angela Merkel's time is starting to run out.
Merkel today told senior officials from her Christian Democratic Union that she won't seek another two-year term as party leader in December after another bruising setback in a regional election yesterday.
The CDU may have salvaged just enough support to cling on to power in Hesse. But another hammering for Merkel's national coalition partners, the Social Democrats, has many in the party asking why they are propping up Merkel, who plans to remain as Chancellor, for now at least.
She's ultimately paying the price for her refusal to shut Germany's borders to refugees from the Middle East in 2015.

With Jair Bolsonaro claiming power in Brazil yesterday, the setting of the Merkel era is a further sign that the world is lurching to the right with voters demanding their governments take a cue from Donald Trump and put their national interests first.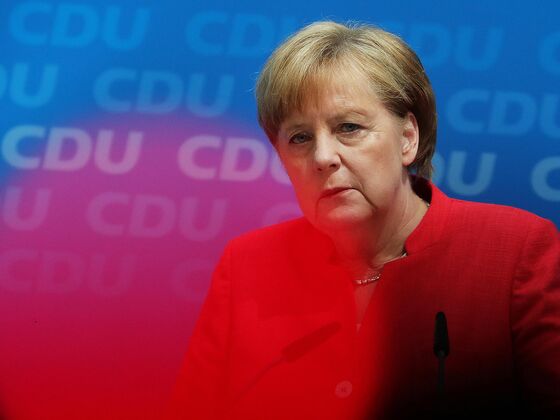 U.S. attacks | Eight days before the midterm elections, Trump's allies are rejecting any link between his harsh rhetoric and a rise in violence. Homeland Security Secretary Kirstjen Nielsen said yesterday the president has made clear "we will never allow political violence to take root." The comments – which follow last week's attempted pipe bombings and the mass murder at a Pittsburgh synagogue – come as one of Nielsen's predecessors said changing the "toxic" political environment must start with Trump.
Damage control | White House officials are largely resigned to losing Republican control of the U.S. House and are bracing for an exodus of staff worried about a torrent of subpoenas from Democratic congressional investigators, Shannon Pettypiece reports. If they do gain a majority, Democrats are eyeing a major U.S. transportation and infrastructure measure.
Read more about the Nov. 6 elections that will determine control of Congress:
Budgeting for no deal | Philip Hammond delivers his budget today, knowing Brexit could derail his plans. The Chancellor has indicated he'll need an emergency budget – including extending austerity – if the U.K. fails to secure a deal with the EU, meaning anything he announces today might only survive five months. That would be a blow to Prime Minister Theresa May, who wants to loosen the purse strings to stave off the threat from Jeremy Corbyn's opposition Labour Party.
Commanding victory | Bolsonaro's sweep to power in Brazil's presidential election yesterday promises to open up the resource-rich economy to private investment, strengthen ties to the U.S. and unleash an aggressive crackdown on crime. The former army captain trounced Fernando Haddad, whose Workers' Party became synonymous with graft, winning 55 percent of the vote, with almost all ballots counted.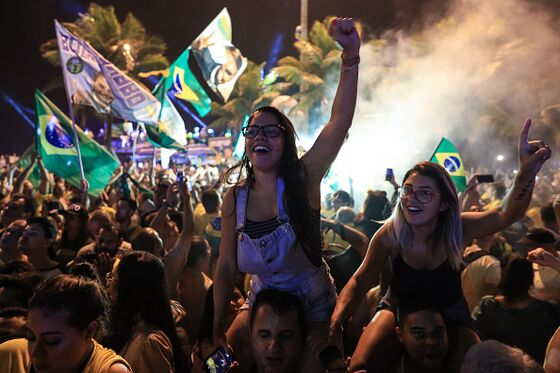 Power play | The Indian Ocean island of Sri Lanka is making geopolitical waves beyond its palm-fringed shores as a battleground for Indian and Chinese influence. A power struggle between the two top leaders saw the president replace his premier, Ranil Wickremesinghe, an advocate of warm relations with India and Japan with former strongman – Mahinda Rajapaksa, who maintained close ties with China during his 10-year rule that ended in 2015.

What to Watch
Prime Minister Benjamin Netanyahu's surprise visit to Oman this weekend pried open a door usually shut to Israelis, and several of his cabinet members are following him through, attending conferences in the Persian Gulf nation over the next fortnight. "It's a sign that Israel and the Arab world are moving closer," said Michael Oren, Netanyahu's deputy minister for public diplomacy.
And finally ... Can Alfred Hitchcock and Winston Churchill help the cash-strapped Morocco raise money? The government hopes so. It plans next year to sell a 51-percent stake in La Mamounia Hotel, a former palace in Marrakesh turned-five-star hotel that has, for decades, welcomed leaders such as Charles de Gaulle, as well as the Hollywood elite. "If the walls could talk," La Mamounia's brochure reads, "they would surely have some stories to tell."