Merkel Risks More Political Gridlock as German Coalition Creaks
(Bloomberg) -- Angela Merkel's decision to oust her domestic intelligence chief has political gridlock written all over it.
Germany's chancellor averted a loss of face and another blowup in her governing coalition by removing the official, who had questioned her reaction to a bout of far-right unrest last month. Yet the tactical move is unlikely to resolve fundamental tensions over migration that previously undermined the coalition's stability in June.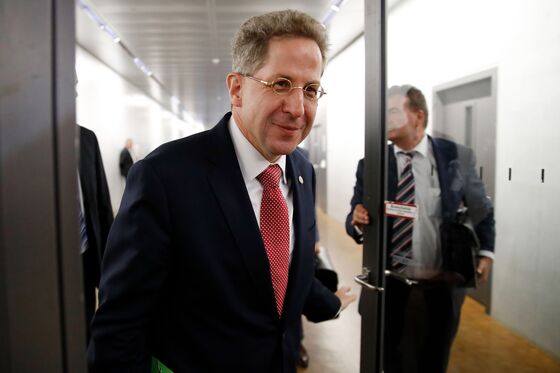 As Merkel seeks to focus on global issues from trade conflict with the U.S. to the war in Syria, she's fighting a slow erosion of authority at home after almost 13 years in office. With the next federal election due in 2021, the risk is domestic stagnation during a fourth term that may well be her last.
The episode involving Hans-Georg Maassen, head of a federal surveillance agency that protects Germany against neo-Nazis and other extremists, shows how the country's culture wars over migration are increasingly determining Merkel's domestic and foreign agenda.
"It's just the festering sore in German politics," said Daniel S. Hamilton, senior fellow at John Hopkins University's Foreign Policy Institute in Washington. "She doesn't seem to be able to address it in any way that ameliorates the anger among some parts of the public."
At a meeting with Merkel on Tuesday, her Bavaria-based CSU sister party and her Social Democratic coalition partner agreed to shuffle Maassen off to an Interior Ministry post.
The respite may well be temporary. Next month, Bavaria holds an election that polls suggest will end with the anti-immigration Alternative for Germany entering the state legislature and the CSU losing its parliamentary majority. Voters go to the polls two weeks later in Hesse, where Merkel's Christian Democratic Union heads the state government.
"If the CSU and CDU do very poorly on Oct. 14 and Oct. 28, there could be significant unrest in both parties, which would be likely to further weaken Merkel's position as CDU chairwoman," Deutsche Bank AG analysts in Frankfurt said in a note dated Sept. 4.
For the moment, the Social Democrats can claim a tactical victory over Interior Minister Horst Seehofer, who heads Bavaria's CSU and initially defended Maassen against SPD calls for his ouster. The bigger picture is that of a coalition at constant risk of tying itself in knots in domestic battles.
"The basic issue is that Merkel is coming to the end of her tenure," and few in the CDU expect she'll lead her party into the next election, said Jacob Funk Kirkegaard, senior fellow at the Washington-based Peterson Institute for International Economics. "When that is the case, you always run the risk as a leader to become a lame duck."
While Merkel's political pragmatism and Germany's tradition of government by coalition have sustained her chancellorship, she's increasingly squeezed between Bavarian allies who weathered the geographic brunt of the refugee crisis and a Social Democratic Party that's eyeing the next federal election.
"This never was about Maassen," Bild, Germany's most-read daily newspaper, said in an editorial. "This was about power and the gigantic egos of a decrepit grand coalition."
Fallout from the refugee crisis in 2015 and 2016 has engulfed Merkel's coalition in power struggles for weeks a time this year. The diversions haven't helped her wrap up big projects such as Germany's shift to renewable energy and a government push to promote electric vehicles. Also pending are French-led proposals for strengthening the euro area against economic shocks and a push for joint European military capabilities.
For all the headwinds, Merkel remains Europe's go-to leader and has said she intends to serve out her term. On Wednesday, she'll be back on the international stage at a European Union summit in Austria where EU leaders will deal with Brexit and ways to curb migration from outside the bloc.
Merkel remains "the shrewdest politician in Germany," said Kirkegaard. "There's still a lot which can be done on the external border issue and on the formation of a European military capacity."