Merkel Defends New German Curbs to Tamp Down Virus 'Drama'
(Bloomberg) -- Chancellor Angela Merkel defended her decision to once again severely limit movement in Germany, saying the country is in a "dramatic situation" as the rapid spread of the coronavirus stretches health-care services to their limit.
Authorities are no longer able to track infections back to their source and that leads to an exponential growth, which must be stopped, Merkel told lawmakers in the German parliament on Thursday. If the nation waits to act until intensive care units are full, it will be too late, she added, warning of "four long and difficult winter months" ahead.
Merkel is struggling to retain control over the crisis, with protests increasing and political unity fraying. Germany's long-time leader, who plans to step down after elections next fall, was lauded for a quick response to the pandemic but failed to keep the country in line over the summer, setting the stage for the current outbreak.
Tension over the German leader's push for the strictest measures since the country's lockdown in the spring boiled over during her speech. Opposition lawmakers repeatedly interrupted her, forcing Wolfgang Schaeuble, the parliament's president, to call for order.
When she continued, she pushed back against doubters like the far-right Alternative for Germany (or AfD), which has been outspoken in questioning the government's actions.
"Lies and disinformation, conspiracy and hate damage not only the democratic debate, but also the fight against the virus," Merkel said in unusually blunt terms. "This pandemic is a medical, economic, social, political and psychological test."
European leaders are painting a bleak picture of the fight against the disease as an unrelenting wave of infections prompts a return to stringent curbs. The region has again become an epicenter of the disease, which has infected nearly 6.5 million people in Europe and caused more than 210,000 deaths.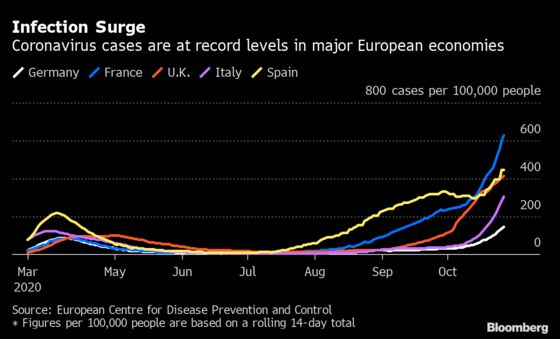 French President Emmanuel Macron will implement similar measures in his country on Friday, saying a "brutal brake" is needed to regain control. The European Union's two biggest economies will shutter bars, restaurants and non-essential services, while allowing schools and most businesses to operate.
Italy is considering tightening its own restrictions including targeted lockdowns. Prime Minister Giuseppe Conte wants to use next week to assess the impact of the most recent set of curbs, government officials said.
Merkel secured the agreement to limit movement with leaders of Germany's 16 states on Wednesday. The meeting was moved forward by two days in a sign of heightened urgency.
Germany's daily coronavirus cases increased the most since the start of the outbreak, while fatalities rose by the most since early May. The virus is increasingly spreading among people over the age of 60, and the number of Covid-19 patients in German ICUs has more than doubled in the past two weeks, according to Germany's public-health authority.
"We are in a dramatic situation at the beginning of the cold season," Merkel said. "I very much understand the frustration, and yes the despair, in these areas."
Germany's Restrictions
Starting on Monday through the end of November:
Restaurants, bars, nightclubs and similar establishments will be closed
All leisure facilities, such as gyms, theaters, opera houses, concert venues, fairs, cinemas and amusement parks will be closed
People will only be allowed outside with members of their own household and one other and gatherings will be limited to 10 people; violations would carry penalties
Citizens urged to refrain from private travel and visits to relatives; hotel accommodation restricted to non-tourist purposes

Staying open:

Schools and daycare centers
Supermarkets and hairdressing salons, under existing hygiene regulations
Similar trends are raging across Europe. The U.K., Italy, Spain and Greece reported record daily increases in cases this week, while France's weekly pace has been climbing for the past 26 days. The Czech Republic and Belgium as suffering the worst outbreaks in the region.
Still, Alexander Gauland, the AfD's caucus leader, dismissed the alarm, calling Merkel's speech akin to "war propaganda." Germany is "governed by a form of war cabinet," he said in the Bundestag after Merkel's statement.
After failing to secure new measures two weeks ago amid resistance from state premiers, Merkel's plan was adopted almost entirely on Wednesday after cases surged since then. The challenge now will be to get the pandemic-weary public to abide by the rules, which will take time to have an impact.
Germany's partial lockdown for November is aimed at putting the country in a position to ramp up more economic activity ahead of the critical Christmas shopping season.
"Only if this succeeds, can the recovery process in our economy continue in a lasting way and severe damage for companies and workers can be prevented," Economy Minister Peter Altmaier said in a post on Twitter.