Merkel Says EU Elections to Be Ultimate Test of European Unity
(Bloomberg) -- German Chancellor Angela Merkel said Europe will face a test of unity in next year's continent-wide parliamentary elections, as she called for European Union nations to work together to overcome challenges including migration and trade.
Calling the 28-member bloc's struggle with migration a "much larger" challenge than the euro-area debt crisis of earlier this decade, Merkel called on the EU to rely on its strength in the global market place as a united force.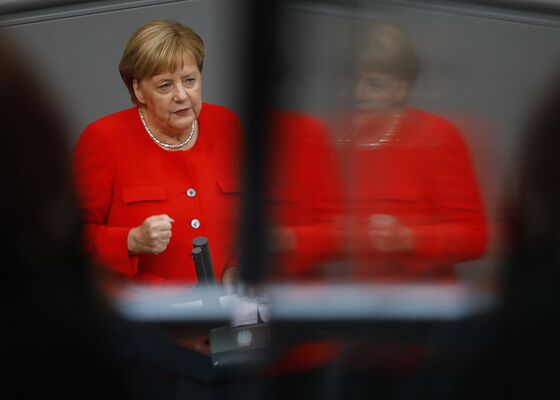 "I'm grateful that we're a part of Europe and EU trade negotiations take place for all European countries -- and we all have a joint currency, so that you can't speculate against any one currency," Merkel told lawmakers in the Bundestag in Berlin on Wednesday.
European Parliament elections next May are looming as a key test of the bloc's future direction, with anti-migration, EU-skeptic forces in countries including Italy and Hungary facing off against the liberal establishment as espoused by Merkel and French President Emmanuel Macron.