Merkel's Would-Be Successors Open Campaign With Centrist Message
(Bloomberg) -- The two frontrunners to succeed Angela Merkel next month as leader of Germany's Christian Democrats stressed their readiness to cooperate with the chancellor and each other.
Friedrich Merz, who quit politics after Merkel pushed him aside in the early 2000s, on Saturday vowed a "fair, honest and loyal" relationship with the chancellor in his first public speech since starting his leadership bid. He said he wants to keep the Christian Democratic Union "in the middle" of the political spectrum, rejecting calls to move the party to the right to win back voters from the populist Alliance for Germany.
His main rival and Merkel's preferred successor, party secretary Annegret Kramp-Karrenbauer, defended Merz amid suspicions over his career as a BlackRock Inc. executive after leaving politics. "He decided for himself which career path to take, and that is not to be criticized at all," she said in an interview with the Funke newspaper group. Merz has offered to work with Kramp-Karrenbauer if elected.
That both candidates are sticking to Merkel's centrist approach is meant to assuage concerns that having a separate party leader and head of state will add instability to Germany's politics. Merkel has vowed to lead the government until her term ends in 2021.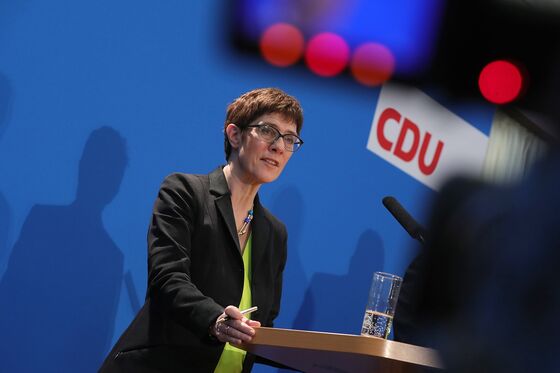 Both candidates are also trying to show differences with Merkel after the party fell to historical lows in recent state elections. Merz said that the leadership change would mark a "profound turning point" for the party while Kramp-Karrenbauer stressed her security credentials by calling for a lifetime entry bans for criminals convicted of serious crimes like rape.
Health minister Jens Spahn, who is the third contender for party leadership, sparked controversy by proposing that those without children should pay higher taxes.