Merkel's Succession in Disarray With Bloc Split Over Nominee
(Bloomberg) -- Angela Merkel's succession took a dramatic turn as the parties in her conservative alliance split their recommendations for the bloc's chancellor candidate, setting up a tense showdown just months before national elections.
Bavaria's Christian Social Union backed its chairman Markus Soeder, snubbing the larger CDU, which endorsed its leader, Armin Laschet, just hours earlier.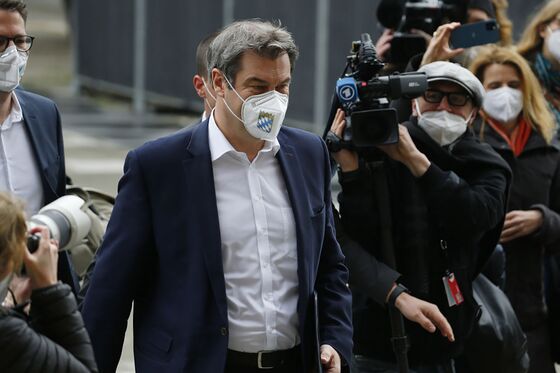 The CDU/CSU has slumped in the polls since Laschet became leader of Merkel's party, and Soeder pointed to that decline to bolster his candidacy. The 54-year-old shook up the process by declaring publicly on Sunday after months of maneuvering behind the scenes.
The bloc has "never lost so much voter support in such a short time," Soeder said in Munich after a meeting of the CSU leadership. "We can't decouple ourselves from the country's mood."
Soeder's challenge risks a divisive struggle in an alliance that's underpinned German political stability since the end of World War II.
The CDU and the CSU traditionally field a joint candidate and the process has almost always gone in the favor of the larger party's chief. Only two candidates from socially conservative Bavaria have run for chancellor in the post-war period and both lost.
But Laschet's lack of support with voters has opened the door to Soeder, who is much more popular. The Bavarian premier sought to widen the process beyond the parties' leadership, which could be in his favor.
"Its critical that other voices are heard," said Soeder. "It shouldn't be 10, 20 or 30 people deciding on their own, you can only win elections with broad support and active party members who are willing to fight."
Soeder and Laschet plan to talk later on Monday, but Soeder said a decision would take at least several days. To underscore the situation, he drew parallels between the current election and the vote in 1998 when the CDU's Helmut Kohl lost to Gerhard Schroeder from the Social Democrats.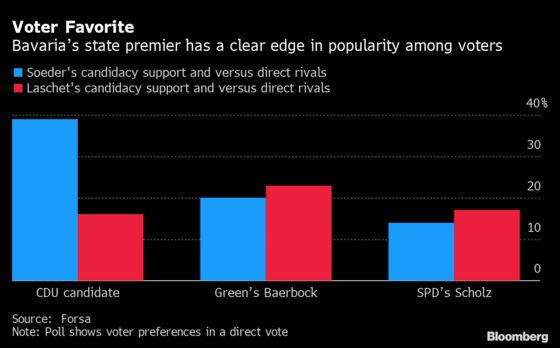 Pressure is mounting to nominate a candidate and ramp up the campaign. The bloc's lead over the Greens has shrunk to about four points, and the environmental party is set to announce its chancellor candidate -- likely between co-leaders Annalena Baerbock and Robert Habeck -- next Monday.
"Everyone wants a quick decision," Laschet said after receiving unanimous support from the CDU's leadership committee. "We shouldn't focus any longer on internal party issues but on the major tasks that Germany faces today, tomorrow, this week and in the coming months."