Merkel's Succession Has Descended Into Chaos and That's a Risk
(Bloomberg) -- While Angela Merkel maintains her characteristically unflappable demeanor in public, behind the scenes the German chancellor realizes she's all but lost the ability to influence the power struggle raging within her party.
In the chancellery, there's growing concern about how her chosen heir -- Annegret Kramp-Karrenbauer, who resigned last week after failing to reel in a rogue state chapter -- is handling the succession process and how that fallout could affect Merkel, according to an official close to the discussions.
The power struggle within Merkel's Christian Democratic Union is crucial for Germany's future. The country's biggest party has played a role in government for much of its post-war history. But the far-right Alternative for Germany, or AfD, has been gnawing at its support in recent years, wooing voters with nationalist rhetoric. And Merkel, who is due to step down as chancellor in late 2021, has a personal stake in protecting her legacy.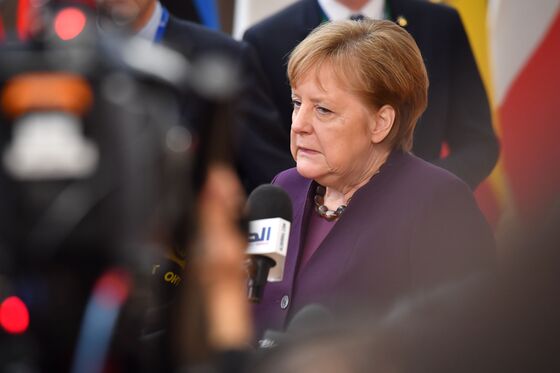 Right now, she is watching from the sidelines as Kramp-Karrenbauer, the acting CDU leader, is botching the process of picking a replacement. "My historical experience is that predecessors should stay out of such things," Merkel said in Berlin on Wednesday. "That's what I will do," she said, walking back previous comments about cooperating closely in the process.
Kramp-Karrenbauer awkwardly announced that the next CDU leader would also be the group's chancellor candidate in the next national elections, a proposal that wasn't coordinated with the Bavarian sister party. The plan to anoint a potential successor puts pressure on Merkel to get out of the way sooner, according to the official.
For Holger Schmieding, chief economist at Berenberg Bank, Merkel is a lame duck that "now doesn't even seem to have things under control in the CDU anymore." That became clear when the only cabinet member Merkel ever fired unexpectedly entered the race to lead the CDU. All semblance of an orderly transition was lost.
It's increasingly looking like the party will seek a clear break from Merkel after more than 14 years as chancellor. Three of the four contenders are out-and-out critics of the German leader.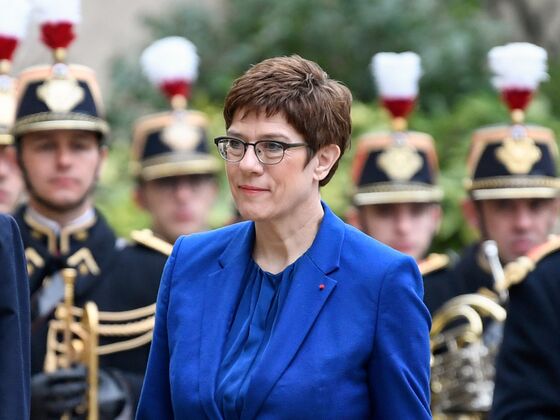 Germany's political turmoil risks causing ripple effects across the region. The European Union is grappling with challenges from establishing a post-Brexit order to heading off a trade war with the U.S. and making the bloc's economy carbon neutral. It will struggle to move forward without Germany's leadership.
For now, the markets are feeling calm about the internal party machinations. Merkel, though weakened, is still in the saddle and represents a bastion of stability, at a delicate moment. Germans were reminded of how volatile the country has become after nine people with immigrant backgrounds were killed in a town near Frankfurt in what appeared to be a right-wing extremist attack.
Merkel responded forcefully, vowing to defeat racist "poison."
It remains to be seen how the country processes that atrocity and how it will play into a succession race as it enters a decisive phase and has become a platform for Merkel's enemies.
After speaking on Tuesday with Friedrich Merz -- who lost a power struggle with Merkel a decade ago -- AKK will wrap up talks with contenders, including Health Minister Jens Spahn, this week and make a recommendation to CDU leaders on Feb. 24 on how to proceed.
The public candidacy of former Environment Minister Norbert Roettgen, a moderate, threatens to undermine Armin Laschet, the state leader of North Rhine-Westphalia who's most likely to maintain the chancellor's centrist approach. That could open the door to Merz and Spahn, who are more conservative.
While the other candidates have merely intimated their interest, Roettgen -- head of the foreign affairs committee in German parliament -- is the only hopeful to officially announce his ambitions.
His surprise candidacy sets up an open leadership battle and complicates a potential back-room deal between Laschet, Merz and Spahn -- talks of which had made the rounds in Berlin since Kramp-Karrenbauer's resignation. Roettgen used the spotlight to undermine any such prospects.
"It's about a policy direction for the future of the CDU. And this must happen in an open way and not behind closed doors," Roettgen said on Wednesday after he met AKK for an hour in Berlin.
The 54-year-old, whose political career seemed over when Merkel fired him as environment minister in 2012, said the CDU's crisis -- sparked by the Thuringia branch breaking a taboo by allying with the AfD in a vote for the state's leader -- was too serious to allow the process to gloss over political divisions.
The former Merkel acolyte has been one of her harshest critics and recently tried to torpedo her softer position on security concerns posed by China's Huawei Technologies Co. Roettgen's antagonism combined with his centrist leanings could position him as a compromise candidate by offering a clear break with Merkel -- which many in the CDU crave -- without a hard shift in policy.
Early indications are that the gambit could work. Among the general public, he's more trusted than Merz to lead the CDU by a margin of 32% to 25%, according to a poll conducted by Civey for Focus magazine, and the two are head-to-head among the party's supporters.
Still, Roettgen's candidacy is a long shot. He enjoys little support in his home state of North Rhine-Westphalia, where he is still blamed for running a catastrophic campaign in 2012 and confining the party to opposition for another five years. The poor performance ultimately led to his unceremonious dismissal from Merkel's cabinet.
At least for now, Roettgen is saying that if elected he would allow Merkel -- who remains extremely popular with the public -- to serve out her term.
But the bad blood between the two could make that prospect unlikely and would make Merkel's final months in office extremely uncomfortable.