Merkel's Potential Heir Says He'll Regain Nationalist Voters
(Bloomberg) -- A longtime antagonist of German Chancellor Angela Merkel pledged to win back voters from the far right if elected leader of the Christian Democratic Union, seeking to reverse a loss of support that critics blame on her liberal refugee policy.
Friedrich Merz, a business favorite seeking a political comeback, targeted voters lost to the nationalist Alternative for Germany, saying that's needed to reclaim a broader political middle ground. Merkel's preferred candidate, CDU general secretary Annegret Kramp-Karrenbauer, promised to learn lessons from the refugee crisis that turned many Germans against her mentor.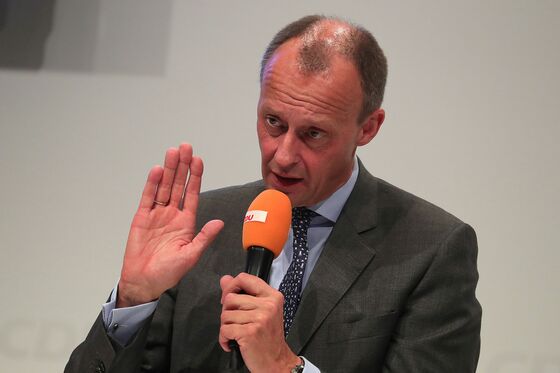 With a town hall for party members, the two top contenders and Jens Spahn, an openly gay social conservative also running, kicked off three weeks of nationwide campaigning ahead of a convention that will pick a new CDU head on Dec. 7. Merkel has led the party for more than 18 years.
"The CDU is a people's party in the middle," Merz, 63, said on stage in the northern city of Luebeck late Thursday. "We're not moving it to the right or the left."
After almost a decade in the private sector, most recently at BlackRock Inc., Merz entered the race within hours of Merkel's announcement in October that she'll step aside as CDU head and won't seek a fifth term as chancellor. Whoever wins the top party post will have the inside lane to run for chancellor in the next election.
Delegates applauded when Merz said he'd return the CDU to levels of support of past decades and halve Alternative for Germany's voter share. With a nod to the refugee crisis, he said the state risked "losing control" of the rule of law.
Kramp-Karrenbauer made it clear that she'll maintain Merkel's approach of making the CDU a big-tent party, while addressing the party's frustration with the chancellor that has eroded her authority after 13 years in power.
"It can't be the case that things are decided in the government and only then in the party," said Kramp-Karrenbauer, 56.
While Merkel pushed Merz out of a senior party post when he was last involved in front-line politics 16 years ago, he denies wanting to settle scores. On Thursday, he lauded Merkel's record as CDU leader and suggested they'll be able to work together. Merkel has said she intends to serve out her term, which ends in 2021.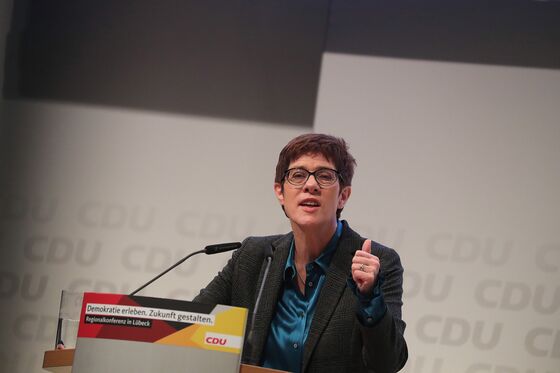 Polls suggest a two-way race between Merz and Kramp-Karrenbauer, with Spahn a distant third. Ahead of the ballot by some 1,000 delegates, a national poll found that CDU supporters would prefer Kramp-Karrenbauer to Merz by 46 percent to 31 percent, according to broadcaster ARD.
Seven more road shows for party members are planned ahead of the convention, each covering a different region of Germany. The two top candidates both won solid applause at Luebeck, signaling that many delegates are still making up their minds.
CDU member Sebastian Knoke wanted to find out whether Kramp-Karrenbauer is "more than a copy of Merkel" and came away persuaded by Merz and his "clear language," he said in an interview.
Ultimately, Kramp-Karrenbauer "would be more of the same," Knoke said.