Merkel's Plan to Preserve Power Is Challenged by Asylum Critic
(Bloomberg) -- German Chancellor Angela Merkel's biggest party rival is attacking her asylum policy, stoking a clash that could further weaken her as a world leader while sharpening the tone in the race for her succession.
How the deeply political conflict plays out at a Christian Democratic Union convention will help determine how much of a power base Merkel still has when she stays on as a lame-duck chancellor after giving up the party chairmanship. With the contest for CDU leader wide open, Merkel and Germany may be headed for uncharted waters after the Dec. 7 convention vote.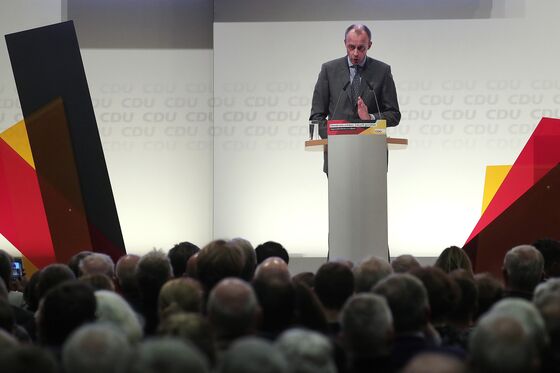 BlackRock Inc.'s Friedrich Merz, one of two top contenders to take over the party, set the tone at a candidates' debate by voicing reservations about a draft United Nations pact on migration that several countries, including the U.S., have rejected. His comments were a slap at Merkel, who portrayed the pact as vital to German interests in a speech just hours earlier.
"Immigration in this country is unregulated," Merz told the eastern German audience on Wednesday evening. "If Germany joins this pact, we must ensure that there's no expansion of asylum rights, including via administrative courts."
The immediate threat to Merkel is a possible convention vote on whether the party should back the non-binding pact. If delegates disavow her, she would begin the final phase of her chancellorship with a defeat that her opponents would read as a signal for her to quit before her fourth term ends in 2021.
Coinciding with a clash between President Donald Trump and U.S. Supreme Court Chief Justice John Roberts over a judge who blocked a White House effort to curb asylum claims, the polarized debate in Germany shows how migration may yet lead to Merkel's early downfall.
As battle lines are drawn before the CDU convention, Merkel's favored candidate, Annegret Kramp-Karrenbauer, a top official at party headquarters in Berlin, defended the agreement. "It's worth fighting for this pact," she said.
Merz and Kramp-Karrenbauer are considered the front-runners in the leadership contest. While Merz has pledged to work in tandem with Merkel if elected, his socially conservative stance and past enmity with the chancellor suggest it could be a difficult partnership.
Merkel on Wednesday held up the migration pact as part of a web of international agreements that defend against nationalism and help spur global solutions, including on the root causes of migration.
"That is why it's in our national interest that the global conditions that make people flee and, on the other hand, lead to economic migration, are improved," she said in a speech to parliament.
Her comment elevated the UN pact to center-stage in Germany's culture wars over migration, which was spurred by the biggest refugee influx since World War II in 2015 and 2016.
Merz went further, calling on parliament to amend Germany's postwar constitution to curb the individual right to asylum. The reason is that if the European Union ever agreed on a common asylum policy, Germany's constitution would leave it with more liberal rules than the rest of Europe, he said.
Also in contention for the CDU leadership is Health Minister Jens Spahn, who touched off the discussion about the UN pact last week. On Wednesday, he rejected the argument that a national debate about migration risks helping the far right.
"Many today have the feeling that, for reasons of political over-correctness, you can't dare to say what's right out of fear that it might play into the hands of the wrong people," Spahn told the audience in the town of Seebach.