Merkel's Party Turns Inward With All-Out Leadership Contest
(Bloomberg) -- Contenders to succeed German Chancellor Angela Merkel as party chief will criss-cross the country to campaign ahead of a convention in December, giving an early taste of the choices for the next potential leader of Europe's pivotal country.
The process agreed among the Christian Democratic Union's leadership signals that Germany is headed for another inward-looking period as the post-Merkel era takes shape. Merkel, 64, reiterated Monday she's ready to serve out her fourth term and her replacement as party chief, who would be in pole position to be the CDU's chancellor candidate in the next election, will help determine whether she can.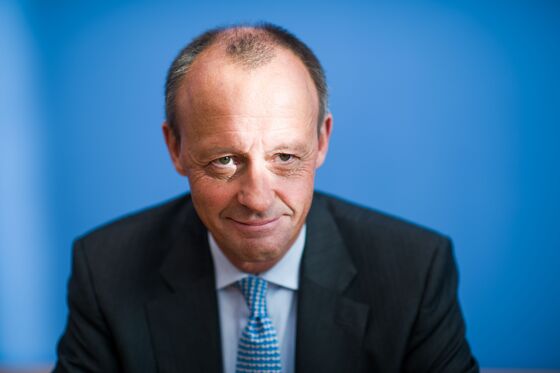 Friedrich Merz, head of BlackRock Inc's German asset management unit and a one-time antagonist of Merkel, is the front-runner, ahead of Annegret Kramp-Karrenbauer, a Merkel confidant whom she installed as the party's general secretary in February, according to a poll for Bild am Sonntag newspaper.
Merkel said after Monday's party leadership meeting in Berlin that she is not worried the party leadership contest will foster instability in Germany and that the CDU remains committed to the coalition with the Social Democrats. She also spoke with French President Emmanuel Macron about the situation, she said at a news conference.
"I believe that the democratic search for a new party leader is common, also in other European states," Merkel said.
She acknowledged that she and Merz have "not always been of the same opinion," but insisted she has "no doubt" she can work with him or any of the other candidates.
Throwing the leadership open to a convention vote is a departure for a party known for tightly orchestrated appointments and the latest sign of change in a fragmented German political landscape.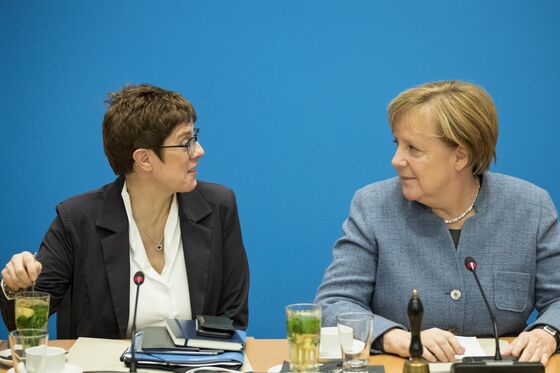 After an inconclusive victory in last year's German election, Merkel needed almost six months and two attempts to stitch together a coalition government that soon descended into bickering. The disarray in Berlin led to historic declines for both Merkel's bloc and the Social Democrats in two state elections in October, setting the stage for the chancellor to give up the party leadership after 18 years and announce that this term will be her last.
Also among a total of 12 candidates running for CDU head is Jens Spahn, the 38-year-old health minister who has publicly criticized Merkel's open-borders refugee policy. Electing Merz, 62, or Spahn would likely push the CDU further to the right, while a victory for Kramp-Karrenbauer, 56, would be a sign that the majority of the party wants to continue Merkel's more centrist line.
Among CDU members, Merz has 44 percent support, with Kramp-Karrenbauer at 39 percent and Spahn at 9 percent, according to the Bild am Sonntag poll published Sunday.
"This is a democratic process, which also offers the opportunity to present the differences between the various candidates," Spahn told reporters on Monday. "For the CDU, this is a special procedure, almost historic."
A Forsa survey for broadcaster RTL published Monday showed 63 percent of the 1,506 citizens polled believe a stronger focus on "conservative values" is the wrong approach and the party should remain in the center.
"A look at recent election results shows how wrong it would be for the CDU to turn toward the past," Forsa head Manfred Guellner said.
The three main candidates will campaign in a series of eight regional conferences from mid to late November.
Endorsements are already trickling in from the party's various interest groups. The CDU women's caucus backs Kramp-Karrenbauer, Frankfurter Allgemeine Sonntagszeitung reported. Key pro-business party members are expected to back Merz, who left politics in 2009 to take up a series of posts in business and finance.
About 1,000 CDU delegates will elect the new party head on Dec. 7 in Hamburg. If there are three or more candidates, the field will be whittled down to the two highest-scoring contenders for a runoff.