Merkel's Party Tempted by Risky Option After 18 Years of Caution
(Bloomberg) -- Angela Merkel's arch-rival is looking to get back into his stride after a couple of missteps as the race to succeed the chancellor as head of Germany's ruling party looks set to go down to the wire.
Friedrich Merz, a wealthy businessman with BlackRock Inc., has at times wowed crowds while campaigning ahead of the Christian Democratic Union conference in eight days' time. But his uneven performance has also raised doubts about his acumen after 16 years away from front line politics, two senior party officials said, asking not to be identified discussing the state of the race.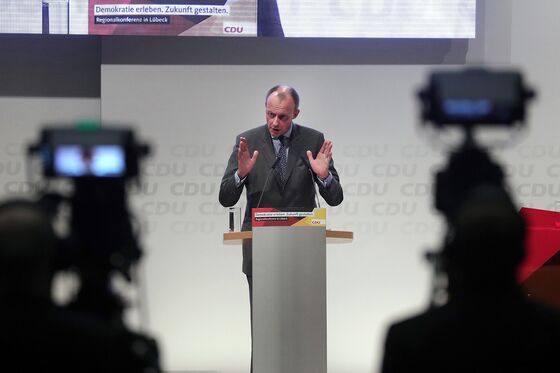 Merz, 63, last week stirred up the debate over asylum, only to back away after protests from his party. He then accused the CDU of "shrugging off" the rise of the Alternative for Germany. His main opponent, Annegret Kramp-Karrenbauer, known as AKK, said the comment was a "slap in the face" for loyal activists who've been trying to combat the far-right group.
As Merkel prepares to step down after 18 years at the head of Germany's dominant postwar party, the CDU is as divided and polarized as the nation at large.
Representing one side is 56-year-old AKK, a continuity candidate who offers the promise of stability as Merkel sees out her final three years in office. On the other it's Merz, who sets conservatives' pulses racing.
Polls show the German public prefers AKK. But the party is tempted all the same.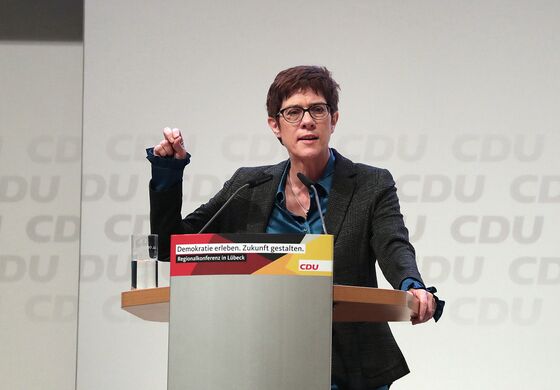 "He electrifies people -- he really brings people out and gets them excited," said Otto Hauser, 66, a former spokesman for Chancellor Helmut Kohl, who dismissed the idea the CDU would be swayed by the broader public. "There's been a fog hanging over the party -- and now there's a kind of euphoria."
On Tuesday at another debate near Stuttgart in Germany's industrial heartland, Merz drew applause with a swipe at the chancellor, whom party conservatives accuse of moving the CDU too far to the left. At times he brought the crowd to its feet.
"We don't have to take over every single position from the Social Democrats," he said. "We don't have to go in on every compromise."
But Kramp-Karrenbauer made headway with the Merz-friendly crowd as well, pledging to give the CDU "new strength." The next evening in a vast Dusseldorf conference hall for 4,000 party members, she struck a strident tone against asylum seekers who had turned to violence.
"We need to tell these people, 'you need to leave this country,'" she told the crowd.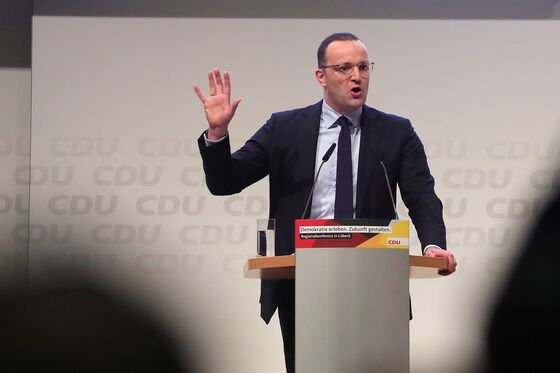 Merz, Kramp-Karrenbauer and the outsider, Health Minister Jens Spahn, will complete their eight-city campaign in Berlin on Friday.
Gunther Krichbaum, a senior CDU lawmaker from conservative Baden-Wuerttemberg who chairs the European affairs committee in Germany's lower house, said the race is still wide open though he'll cast his ballot for Merz.
"Friedrich Merz came in with advantages in this region, but all three looked very strong," Krichbaum said in an interview after Tuesday's event.
Public support has swung in Kramp-Karrenbauer's direction in the month since Merkel's surprise announcement she'll step aside. The Merkel protege had the backing of 38 percent of CDU supporters, ahead of Merz with 29 percent, according to a Nov. 23 survey taken by pollster FW for broadcaster ZDF.
But the contest for the CDU leadership won't be put to a public vote. The 1,001 party delegates, primarily national, regional and community office holders across Germany, will make the decision on Dec. 7. If a single candidate doesn't win an outright majority in a first round of voting, the two top choices -- most likely Merz and Kramp-Karrenbauer -- will go to a runoff.
In Dusseldorf on Wednesday night, 28-year-old party member Alexander Wille, said he was struggling to decide between the candidates. 
"She's very competent," Wille, an accountant from nearby Mettmann, said. "But she'll probably carry on the same policies as Merkel." Merz is "the antithesis."