Merkel's Last Chapter Threatened by Party Takeover Battle
(Bloomberg) -- The race to succeed Angela Merkel as German chancellor is set to heat up on Tuesday when three of the front-runners outline their plans to pull her beleaguered Christian Democratic Union out of a political tailspin.
The start of the eight-week contest to become party leader -- and in all likelihood the CDU's chancellor candidate for the next election -- will determine whether Merkel can see out her final term as planned, or has to confront a conservative rival like Friedrich Merz, impatient to make his mark.
Merz, 64, who narrowly lost a leadership contest in 2018, is due to meet the press at 11 a.m., shortly after a joint news conference by Armin Laschet, 58, a moderate who leads North Rhine-Westphalia, and Health Minister Jens Spahn, 39, a standard bearer from the party's right wing.
In a surprise move, Spahn won't run for the party leadership himself but will support Laschet's candidacy and become his deputy if the older man wins, news agency DPA reported, citing CDU sources it did not identify by name.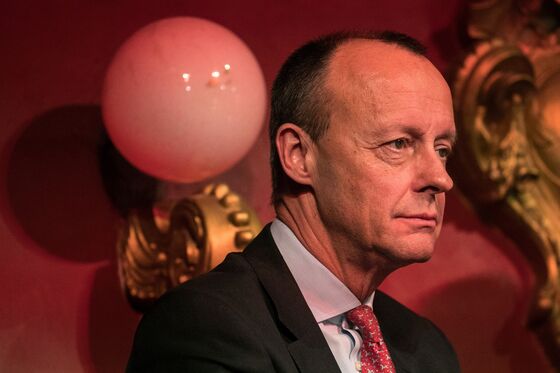 For Germany the stakes are high, as the CDU has to deal with the challenge from the far-right, French demands for European integration, and the twilight of an economic era which saw its manufacturers go from strength to strength.
Norbert Roettgen, 54, an outsider fired by Merkel as environment minister in 2012, declared his own bid last week, dashing hopes that the other three could hash out an arrangement between them and avoid an open contest.
Outgoing Chairwoman Annegret Kramp-Karrenbauer -- Merkel's chosen successor -- had planned to stick around until year end but she was forced to accelerate the process and called a party conference for April 25 as unrest swirled around the party.
"Evidently this situation is enough of a burden for the party that I'm of the opinion that we need to establish clarity sooner," Kramp-Karrenbauer told reporters in Berlin, two weeks after she shocked the political establishment by abandoning her own ambitions for the chancellorship.
If the party picks a conservative as its new leader that will create friction with Merkel, potentially bringing an early end to her 14 years in the chancellery. Kramp-Karrenbauer, who followed Merkel as party chief in 2018, ultimately found it unworkable to lead the party with Merkel still in office and announced her resignation after 14 months in the job. ​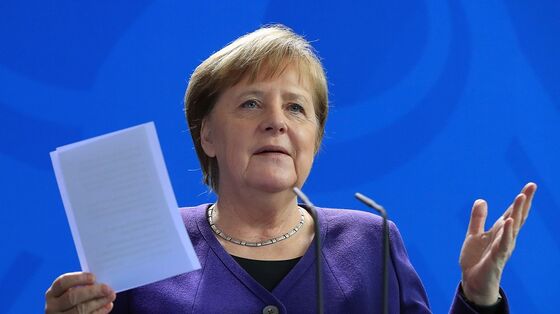 Concerns about the damage an extended power struggle might do persuaded numerous party officials to push for a faster process in recent days. A disastrous election result in Hamburg on Sunday, when the CDU posted its worst performance in the city state since World War II, drove home the need for urgency.
Support for Merkel's bloc held at 26.5% in the latest Insa poll for Bild newspaper published Tuesday, with the Greens gaining 1.5 percentage points to 22% and the Social Democrats steady on 14.5%.
All four "very clearly declared that they will respect any decision of the party conference, irrespective of what it is," Kramp-Karrenbauer said.
Kramp-Karrenbauer struggled to reassure the public that the CDU factions will remain at peace throughout the process and Merkel's junior partner, the Social Democrats, warned that it won't support a move to push Merkel aside.
"If the CDU has any ideas of somehow swapping out the chancellor, then the SPD will very clearly not go along with that," the SPD's general secretary, Lars Klingbeil, told Bild in an interview. The coalition accord was signed with Merkel, he said.
That means the next CDU leader will likely have to win an election before he can become chancellor, rather than taking over Merkel's coalition.