Merkel's One-Time Rival Spies Payback Chance After 16 Years
(Bloomberg) -- A stretch in the political wilderness hasn't mellowed Friedrich Merz when it comes to his one-time antagonist, Angela Merkel.
Sixteen years after he was pushed aside as opposition leader by Merkel, the 62-year-old Merz, who has since earned a fortune as a lawyer and finance executive at BlackRock Inc., still bears a grudge, according to people who know him well. One said he refers to the woman who has led the country since 2005 as simply "the lady" in private conversations.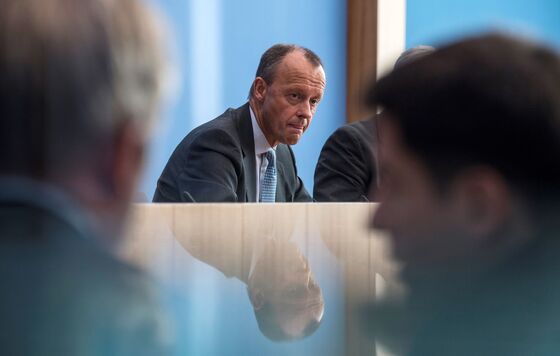 Now, as Merkel prepares to step aside as leader of the Christian Democratic Union in December, Merz is ready to leave the world of finance behind for a political comeback in the race to succeed her as party chief. Upending what she had hoped would be an orderly exit from the political stage, Merz could make life difficult for Merkel during the final three years she plans as Germany's leader.
"They still have a score to settle," said Ulrich Sarcinelli, a political scientist at the University of Koblenz-Landau.
Merz's extended sabbatical from political life has seen him most recently working as chairman of BlackRock's German asset-management unit -- he's been on the supervisory board since 2016, helping the company's European expansion and opening doors to pension fund mandates from DAX companies.
He's braced for turbulence as he returns to politics.
BlackRock "isn't a locust, isn't private equity," he told reporters on Wednesday, ticking off terms that have raised red flags among the German public. "It's a trustee for the assets of its clients," he said.
In his first public appearance since declaring his candidacy, Merz also took pains to say he could work with Merkel and praised her decision to open a path for the party to renew itself. He cited Merkel's statement Monday, after her surprise announcement, that she would take on the "risk" of separating the CDU leadership and the chancellorship.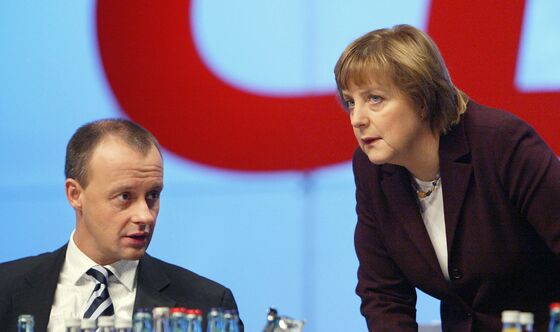 "I'm prepared to go in on this risk too," he said Merz.
Merz's bid throws a wrench into the aspirations of CDU General Secretary Annegret Kramp-Karrenbauer, who is a moderate and Merkel's favorite. Conservative Jens Spahn, Merkel's health minister and a long shot, joins Merz in appealing the the CDU's more traditional wing. The vote will take place at a party conference in Hamburg beginning Dec. 6.
"Certainly Merkel would rather have Kramp-Karrenbauer as party leader, rather than Merz," Sarcinelli said. He added, crucially, that "even with Merz as CDU leader, her position as chancellor would be constitutionally well-insulated."
Merz's coverage in the German media was mixed. Daily Die Welt splashed "Frederick the Great" on its front page, while the left-leaning TAZ called him the "Left's Dream Candidate" because his background lobbying for big business makes him an easy target.
That's a foretaste of the support, and the hostility, that he might face in a general election. Sahra Wagenknecht, a co-leader in parliament for the anti-capitalist Left party, said Merz is a symbol of everything that voters are tired of.
"What the country finally needs is a policy in the interests of the people," Wagenknecht said in an email to Bloomberg. "Friedrich Merz most certainly doesn't stand for that."
Merz led an Oct. 29-30 Spiegel Online poll that had him at 33.7 percent. Kramp-Karrenbauer was at 19.2 percent in the survey of the general public. Almost a quarter said they either didn't know or preferred none of the hopefuls. It will be CDU delegates, though, who will cast ballots for party leader when they meet at a conference in Hamburg starting Dec. 6.
The emergence of Merz on political stage as Merkel's career winds down provides a bookend of sorts, since she stepped over him on her way up.
The two were among the political survivors of a corruption scandal that brought down or sidelined some of the most senior officials in the CDU at the end of the 1990s; the casualties included former Chancellor Helmut Kohl and then party-chief Wolfgang Schaeuble, who eventually had his own political comeback. When she took over the party leadership in 2000, Merz became head of the parliamentary caucus.
He would last two and a half years. Merkel used the aftermath of the CDU's 2002 election loss to the Social Democrats to expand her power base into parliament -- and push him out of his job. Merz grew more frustrated when proposals such as a radical simplification of the tax code, known as the "beer coaster" plan because tax returns would fit on a drinking mat, went nowhere in the Merkel-dominated party.
By 2009, he left parliament.
As a private lawyer in the first years of the euro crisis, he was appointed to help sell assets of troubled state lender WestLB AG. In addition to his current role at BlackRock, he is also on the oversight boards of HSBC Trinkaus & Burkhardt AG and Stadler Rail AG. Earlier this year, he was in talks to join national carrier Deutsche Lufthansa AG as supervisory board chairman, according to two people familiar with the situation.
Those sorts of activities can play badly with voters.
Five years ago, the Social Democrats' chancellery candidate, Peer Steinbrueck, came under sustained criticism for taking speaking fees from banks, which ranged around 15,000 euros ($17,000) per appearance. He was pilloried for remarking that he wouldn't buy a bottle of wine for less than 5 euros.
Steinbrueck's activities created a "public uproar," Manfred Guellner, the director of Berlin-based pollster Forsa, said in an interview. "Merz's past activities for BlackRock and other companies will surely be an issue."