Merkel's Most Important Ally Turns Against Her in Party Struggle
(Bloomberg) -- Former German Finance Minister Wolfgang Schaeuble backed an opponent of Chancellor Angela Merkel to succeed her as party leader, adding to the pressure on a chancellor whose domestic power base is slipping away.
Schaeuble, who remains a key player in Merkel's Christian Democratic Union, endorsed BlackRock Inc.'s Friedrich Merz as the best candidate to win back voters who defected to populists. Coming three days before CDU delegates elect a new party chief, Schaeuble's move amounted to a slap at Merkel and her favored successor Annegret Kramp-Karrenbauer, the party's general secretary.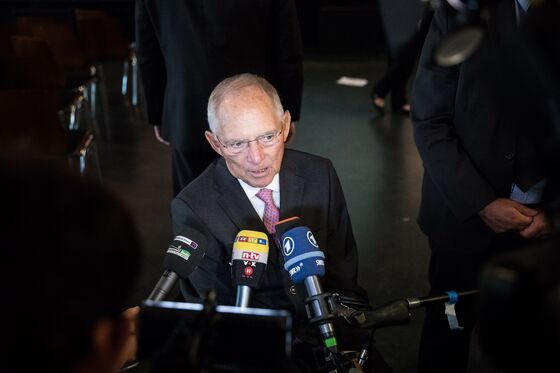 "It would be the best thing for the country" if Merz led the party, Schaeuble said in an interview with Frankfurter Allgemeine Zeitung. "It would make it easier to integrate political forces back toward the center and to stabilize our system. The political fringes would weaken."
While Merkel has as many as three years left in her term, an alternative power center at the governing party's headquarters in Berlin remains a potential risk to her standing, particularly if Merz becomes CDU leader. He and the chancellor have a fraught history dating back at least to 2002, when Merkel ousted him as parliamentary opposition leader and took the post for herself.
Merz, the supervisory board chairman of BlackRock's German asset management unit, has said he's confident he and Merkel could work together. "They'd certainly be able to do that," Schaeuble told the Frankfurt-based newspaper.
Schaeuble lost the party chairmanship to Merkel during a campaign financing scandal involving former Chancellor Helmut Kohl. Almost 19 years later, he's being credited with promoting the Merz challenge behind the scenes, along with other conservative mainstays in the CDU whom Merkel outmaneuvered on her way to the top.
While Schaeuble, 76, served as Merkel's finance chief for eight years, the two of them clashed repeatedly over policy, most recently over migration. During Europe's debt crisis, Merkel overruled him when he proposed temporarily kicking Greece out of the euro area.