Merkel's Heir Must Overcome Backlash From German Old Guard Alone
(Bloomberg) -- If Angela Merkel was seeking a straight path for her favored successor as party leader, this isn't it.
Annegret Kramp-Karrenbauer, a former two-term state premier broadly aligned with Merkel's policies, is in the fight of her career as she seeks to take over Germany's Christian Democrats. And there's little that her mentor can do to help.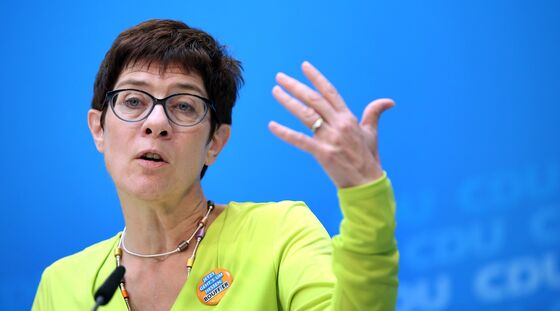 Dubbed "mini-Merkel" by some, Kramp-Karrenbauer, 56, is facing a confident opponent in BlackRock Inc.'s Friedrich Merz and is weighed down by the burden of a weakened leader's legacy. Merkel herself admitted as much on Monday when she swore to stay out of the contest. Attempts to manage a succession usually backfire anyway, the chancellor said.
"Kramp-Karrenbauer really has to manage to have a profile of her own," said Andrea Roemmele, a political scientist at the Hertie School of Governance in Berlin.
The moderates' standard-bearer has the advantage of a party network, support from female delegates and seniors, and the backing of those who value Merkel's pragmatic style. Without Merz's return to frontline politics she might have enjoyed a coronation. Now the contest is too close to call, according to a person familiar with the process who asked not to be identified to avoid being seen as taking sides.
Merz, 63, has drawn support from the party's pro-business wing and a coterie of perennial Merkel critics. Kramp-Karrenbauer will rely on CDU regional organizations, interest groups and voters she's been cultivating over the past nine months at a series of town-hall style meetings.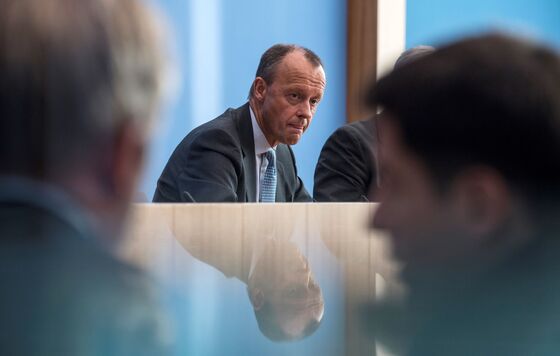 Whoever wins the nod from some 1,000 convention delegates on Dec. 7 will be in line to head the CDU ticket in the next federal election. That means Kramp-Karrenbauer, a mother of three whose husband is a former miner, could eventually be Germany's second successive -- and second ever -- female chancellor.
While Merz is cosmopolitan and touts his global connections in business and politics, his opponent is grounded in her home state of Saarland, a region of a million people near the French border that's struggled with the transition from heavy industry and has a strong leftist tradition. Kramp-Karrenbauer reached across the aisle and partnered with the Social Democrats.
Under party pressure to start a succession process, Merkel called Kramp-Karrenbauer to Berlin in February to become the CDU's general secretary, viewing her as a kindred soul in a key party job.
Like Merkel, she weighs her words in public and comes across as unassuming. And Merkel also had little international exposure when she became party head in 2000, only coming into her own as a global leader a decade later during the financial crisis.
Since then, the protegee has been looking to move out of Merkel's shadow with a more conservative stance on migration. She's also been taking English lessons to try to spruce up her international credentials.
"Her biggest limitation is that she's seen as the Merkel followup," John Kornblum, a former U.S. ambassador to Germany based in Berlin, told Bloomberg Television. "We're in the climate now where people don't want a continuation of Merkel."
The contrast could hardly be bigger to Merz, who earned a fortune in the world of high finance over the last decade and has clout with CDU social conservatives and business-linked grandees. He roared back onto the political stage on Wednesday with strong opinions and a grudge against Merkel.
The third candidate so far is Health Minister Jens Spahn, though his bid for the CDU's right wing is likely to be eclipsed by Merz.
Kramp-Karrenbauer is expected to present her platform early next week.
With Merz's entry into the race this week, she "may have to play the female card more than she planned to," Roemmele said. "I wouldn't underestimate Merz's old-boy network."