Merkel's Health Minister Spahn Tests Positive for Covid-19
(Bloomberg) -- German Health Minister Jens Spahn tested positive for Covid-19 on Wednesday, adding to the growing number of politicians worldwide to catch the virus.
The member of Chancellor Angela Merkel's Christian Democratic party is the first German cabinet minister to become infected. He also is the second one this week to self-isolate, after Labor Minister Hubertus Heil went into a precautionary quarantine on Monday.
Spahn had participated in a cabinet meeting earlier in the day, but it won't be necessary for the rest of those present to quarantine, a spokeswoman for the Chancellery said.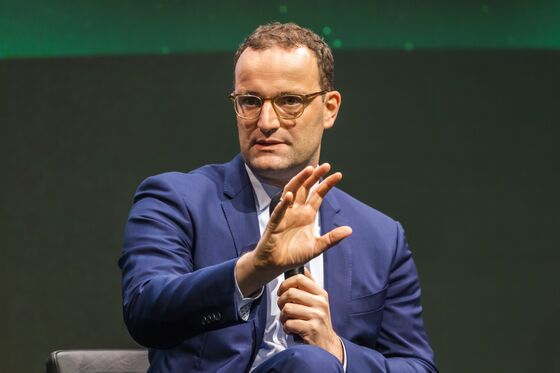 "The conditions in the Chancellery and in particular in the international conference room in which the weekly cabinet meetings take place have been optimized to prevent infections and reviewed by the Berlin health authority," the Chancellery said in a statement.
Spahn, 40, developed symptoms of a cold -- including a cough -- on Wednesday and went for a test in the afternoon, ministry spokesman Hanno Kautz said by phone. "For now, it's important for me that all those who came into contact are informed quickly," Spahn told Bild newspaper.
The virus has spread through the ranks of leading politicians globally, in some cases striking those -- like U.S. President Donald Trump -- who rarely wear masks and held in-person meetings. Brazil's President Jair Bolsonaro -- who had previously belittled the threat posed by the pandemic -- and U.K. Prime Minister Boris Johnson have also been infected with the virus this year.
Germany's Merkel put herself in isolation in March after a doctor who treated her was found to have the virus, but she never tested positive.
Spahn has repeatedly urged strict adherence to distancing and hygiene rules in recent weeks, once recounting that people sometimes look at him as if he's "from the moon" when he wears a mask in Berlin restaurants.