Merkel's Party Delays Vote on New Leader as Election Nears
(Bloomberg) -- Angela Merkel's Christian Democratic Union canceled a December congress, delaying the process of electing a new leader who would be in prime position to run as the German chancellor's potential successor in next year's elections.
Party officials decided that a Dec. 4 convention in Stuttgart with 1,000 delegates will not take place because of rising coronavirus infections, Secretary General Paul Ziemiak said Monday in Berlin. The CDU's top leadership will reassess the prospects for holding the gathering on Dec. 14. If the situation isn't clearer by then, they will reconvene on Jan. 15.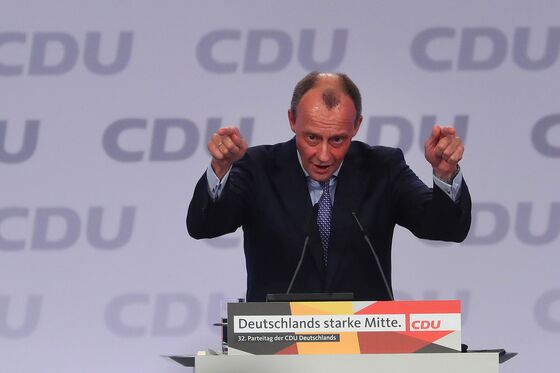 The delay could push a vote to after state elections in Baden-Wuerttemberg and Rhineland-Palatinate in mid-March, giving the new leader little time to prepare for a national campaign, which will determine Germany's future political direction. Merkel plans to step down after 16 years running Europe's largest economy.
"The decision about the chancellor candidate still has time," Ziemiak said.
The move is a blow to Friedrich Merz, a long-time Merkel rival who is one of the favorites. The conservative politician opposed delaying the meeting as his star was rising among the party's rank and file even though he's relatively unpopular among the broader electorate.
Merz said Monday in a tweet that the decision was "against the CDU base," and he regretted that his "compromise proposal" to hold a virtual meeting on the original date hadn't been adopted.
The 64-year-old was pushed out of the CDU inner circle by Merkel nearly two decades ago. He narrowly lost a contest for the top job in 2018 to Annegret Kramp-Karrenbauer, who stepped aside after a series of missteps and thereby created another opening for Merz.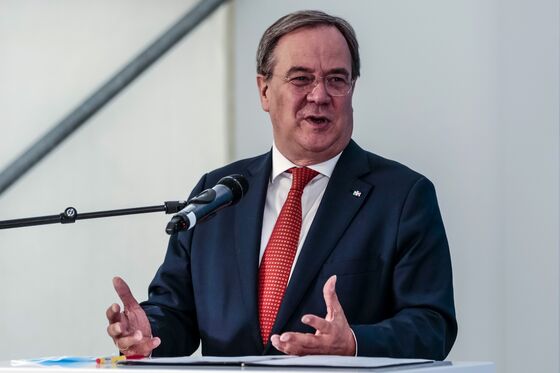 Armin Laschet, the moderate leader of the state of North Rhine-Westphalia, may get a lift as it gives him more time to respond to Merz's challenge. The tight turnaround ahead of national elections could also improve the chances for Markus Soeder -- Bavaria's premier from the sister CSU party -- to lead the bloc into elections, as he's the most popular among top contenders.
Norbert Roettgen, chairman of the foreign policy committee in the Bundestag lower house of parliament, is also running.
The extended leadership battle reflects badly on the CDU, which is largely in charge of the country's pandemic response.
Germany's ruling party had been planning to stage an in-person convention on Dec. 4, but as infections surged, Merkel's government has repeatedly urged the public to avoid large gatherings.