Greens' Baerbock Wins Over Managers in Merkel-Succession Bid
(Bloomberg) -- Annalena Baerbock, the chancellor candidate for Germany's Greens, was the surprising winner of a poll of the country's business leaders, underscoring her early edge in the race to succeed Angela Merkel.
In a survey of 1,500 managers, Baerbock -- a 40-year-old who has never held a government post -- beat Armin Laschet, the candidate from Merkel's conservatives, as well as Finance Minister Olaf Scholz, who is running for the Social Democrats.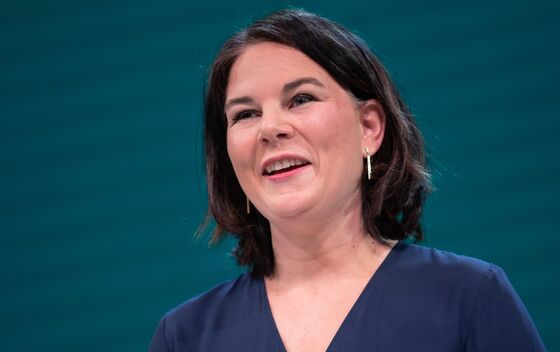 Baerbock was supported by 26.5%, nearly double the 14.3% backing for Laschet. Christian Lindner from the pro-business Free Democrats, who isn't officially a candidate, was second with 16.2%, while Scholz was fourth with 10.5%. Nearly a third of the respondents were undecided.
The survey -- conducted on Tuesday and Wednesday by Civey for the WirtschaftsWoche magazine -- is the latest sign of Baerbock's sudden emergence as the front-runner. Ahead of September's election, Merkel's bloc has been damaged by a bruising power struggle, while voters are also frustrated with the handling of the coronavirus pandemic by her government.
Baerbock was nominated publicly on Monday in a well-orchestrated event, where she presented the Greens' plans for an overhaul of the German economy with investment in sustainable technology. Laschet, by contrast, limped into the contest on Tuesday after a messy struggle that saw many of his Christian Democratic colleagues question his leadership abilities.
"Based on the current situation, it seems possible that the Greens could be able to participate in the next government in some way," Laschet said at a business conference on Friday. "But while climate protection is an important topic, we will have to make clear that industrial jobs and remaining a country of industry is not negotiable for us."
A snap poll by Forsa for German broadcaster RTL published Tuesday showed the Greens jumped five percentage points to 28%, surging ahead of Merkel's bloc, which slumped seven points to 21%. While the survey is currently an outlier, the momentum is in the Greens' favor as Germany's conservatives struggle to chart a path after two decades under Merkel, who will step down after the September vote.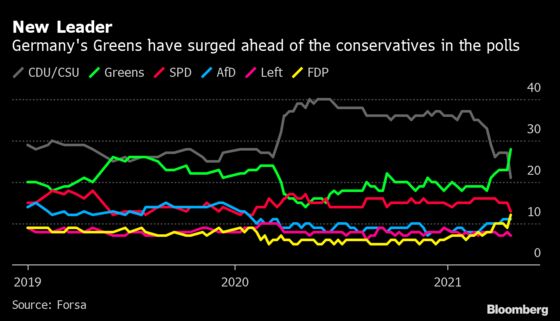 The support among business leaders is unusual because the Greens are campaigning for policies that would increase manufacturing costs by raising the cost of pollution and making energy more expensive. The party also wants to tighten regulations on the finance industry.
But the Greens' track record -- including 10 years running Baden-Wuerttemberg, an industrial powerhouse in southwest Germany -- has shown it will be pragmatic. What's more, the country's political structure promotes stability by forcing broad-based coalitions like the current alliance between Merkel's CDU/CSU bloc and the pro-labor Social Democrats.
Under Baerbock and fellow co-leader Robert Habeck, the Greens have pushed into the political mainstream, bolstered by widespread German concern about global warming. The party has already indicated a willingness to compromise on some of its proposals and is more ready to invest to help companies transition to new technologies.