Merkel Visit to Bavaria Looks to Some Like Coronation of a Successor
(Bloomberg) -- After four months of near isolation, Chancellor Angela Merkel went on a unusual trip to visit Bavarian Premier Markus Soeder, fueling his status as the leading contender to serve as her heir.
With the optics of a coronation, Merkel was taken by boat and then horse-drawn coach to the opulent Herrenchiemsee palace southeast of Munich for an extraordinary meeting of the state's cabinet. Bild, Germany's largest newspaper, called him the "crown prince" and carried Merkel's arrival at the island estate live.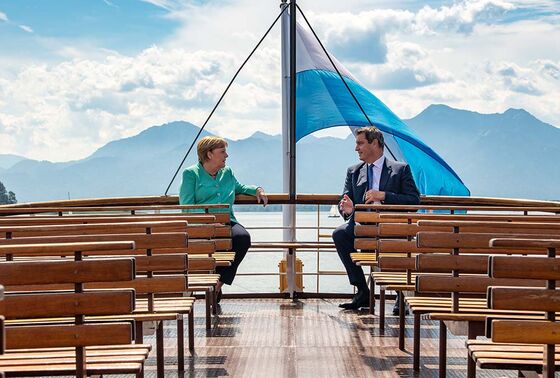 Soeder has sky-rocketed in polls, well ahead of other potential contenders to campaign as chancellor for the conservative bloc in next year's elections -- 52% of voters would welcome his candidacy, according to a Forsa survey for broadcasters RTL and ntv on Tuesday.
The long-time German leader has repeatedly said she won't seek a fifth term. Her heir apparent, Annegret Kramp-Karrenbauer, stepped down as leader of the Christian Democratic party earlier this year, after a series of gaffes and flagging popularity.
During a joint press conference after the visit, Merkel brushed off questions as to whether Soeder would make a good chancellor, saying that Bavaria has a "good premier" and that she would visit other state leaders too, if invited.
One of the protagonists of Germany's largely successful fight against the coronavirus, Soeder has been coy about his ambitions publicly, repeating that his place is in Bavaria. He is seen as suitable for the country's top job by nearly two-thirds of voters, according to broadcaster ZDF's Politbarometer survey last week. That's more than twice what he garnered in March.
But Soeder's path to the top would be complicated, because he hails from the Christian Social Union, the Bavarian sister party to Merkel's CDU. Except for rare exceptions, the bloc's chancellor candidate has traditionally come from the CDU which will choose a new leader at a convention in December. Then the two parties will discuss a campaign strategy.
The leading contenders to head the Christian Democrats are Armin Laschet, the premier of North Rhine-Westphalia, and Friedrich Merz, who had stepped aside from politics after clashing with Merkel years ago. Laschet is currently the least popular of the top candidates to lead Germany's strongest political force into the next campaign, according to recent polls.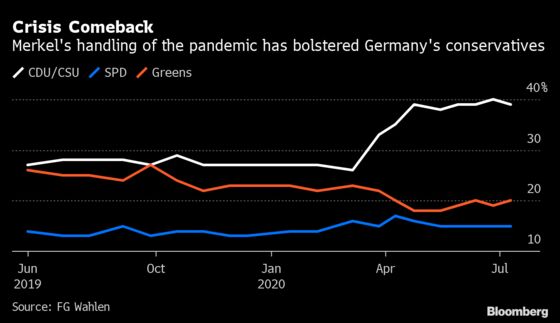 Merkel and Soeder haven't always been so cozy. He played a role in a fierce standoff over immigration policy, which threatened to damage the traditional alliance between the CDU and the CSU.
The meeting on Tuesday symbolizes a "coming together," Soeder said.
While Merkel doesn't officially play a role in choosing her successor, she remains Germany's most popular politician and signs of her approval could further bolster Soeder's standing.
"Today's a big day," Soeder said in a Twitter post. "The chancellor is our guest in Bavaria!"