Merkel's Bavarian Malcontent Leaves Party Post After Vote Defeat
(Bloomberg) -- Horst Seehofer will step down from his post as head of Chancellor Angela Merkel's Bavarian partner party following steep losses in a state election last month, as the changing of the guard in Germany's political establishment advances.
Seehofer, 69, who plans to continue to serve as Merkel's interior minister, pushed the country's ruling coalition to the brink of collapse this summer, when he instigated a showdown with the chancellor over migration. The gambit backfired as the Christian Social Union fell to its worst result in the Bavarian vote since 1950, losing voters to the Greens and the anti-immigration Alternative for Germany.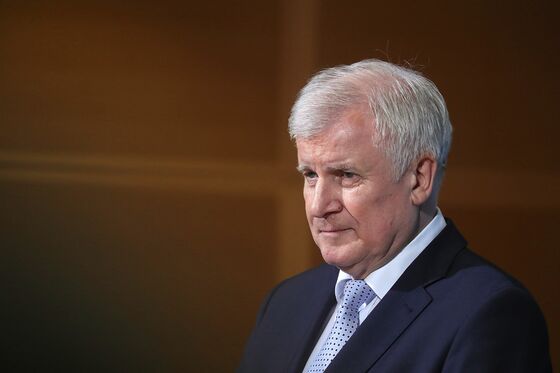 "Change is part of life, also for me," Seehofer told reporters Monday in Bautzen in eastern Germany, where he was visiting police facilities. He said the timing of his departure would be announced this week.
His move follows Merkel's decision to give up her role as head of the Christian Democrats, setting off a race to succeed her. New leadership in Germany's biggest political bloc is part of the upheaval sweeping Berlin in the aftermath of last year's federal election, when traditional parties fell to historic lows and the populist AfD surged into parliament as the largest opposition party.
Seehofer's departure from the CSU post, which he's held since 2008, will likely open the door to Markus Soeder, 51, to head the Bavarian party. Soeder is currently serving as the state's premier, a role he took over from Seehofer earlier this year.