Merkel's Bavarian Ally Loses Absolute Majority in State Vote
(Bloomberg) -- German Chancellor Angela Merkel's Bavarian allies lost their absolute majority in a regional election, signaling a voter backlash against long-ruling parties that's also likely to have fallout in her government.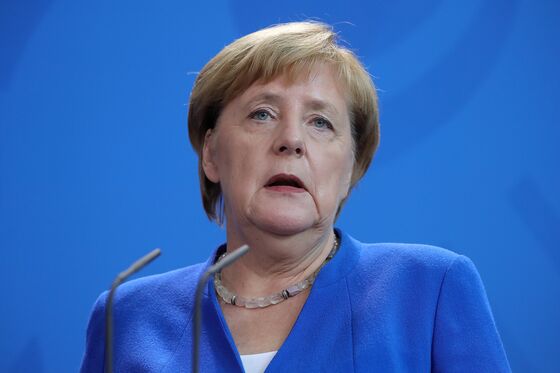 The ruling Christian Social Union, which has dominated Bavarian politics since World War II, took about 36 percent of the vote on Sunday, its lowest result since 1950, according to projections by broadcaster ZDF. Voters migrated to the anti-immigration Alternative for Germany party, or AfD, which won its first seats in the state parliament with about 11 percent, while the other winner of the night was the Green party, which more than doubled its support to some 18 percent.
Seven months into her fourth term, the result is a warning shot to Merkel because it reflects fading support nationwide for the three governing parties -- her Christian Democratic Union, the CSU and the Social Democrats. Support for the SPD in Bavaria collapsed, halving to less than 10 percent.
"It is clear that things will not get easier for Merkel," said Carsten Nickel, an analyst at Teneo Intelligence in London. "She will have to continue muddling through, but she is dependent on two badly beaten coalition partners."
While Merkel may be able to insulate herself to some extent from the Bavarian slump, her own party faces voters in two weeks in Hesse state, where polls suggest the CDU's support has declined by as much as 10 percentage points compared with when it won the last election five years ago.
The result may also have implications for CSU leader Horst Seehofer, Merkel's interior minister in the federal cabinet. He's been sharply critical of her open-borders stance on migration, provoking a coalition crisis over the summer when he threatened to impose restrictions on the border with Austria against Merkel's will.
Annegret Kramp-Karrenbauer, the CDU's general secretary, and Social Democratic leader Andrea Nahles both laid the blame on coalition clashes in Berlin over the summer, mostly between the CSU and Merkel's party.
"There is little question that the infighting over the past months, including the tone and style with which it was done, didn't exactly give a tailwind" to the CSU, Kramp-Karrenbauer told reporters in Berlin.
The CSU has long been identified with prosperity in Bavaria, where regional unemployment in the land of beer, lederhosen and BMW cars is Germany's lowest at 2.8 percent.
Sunday's result in a region where the CSU has governed alone for most of the past six decades means the party now needs a partner to stay in power. In addition to the Greens and the Free Democrats, which were projected to return to the parliament with 5 percent, the CSU could ally with the Free Voters, an opposition group that was projected to take 11.6 percent.
"We want to form a clear and stable government as quickly as possible," Markus Soeder, the Bavarian premier who oversaw the campaign, told reporters in Munich. While vowing to exclude the AfD, he also said he'd prefer to govern without the Greens.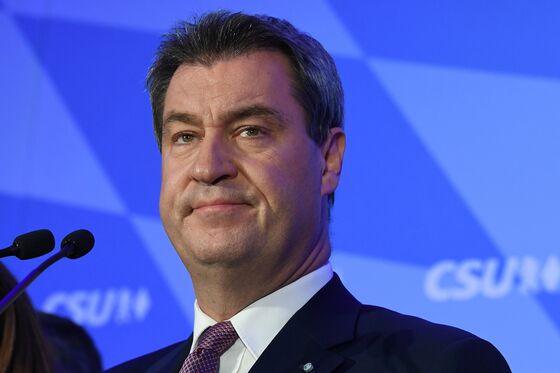 Soeder's campaign fell flat as old numbers from the CSU playbook, such as a pledge to place Christian crosses in state offices, failed to gain traction. Soeder drew ridicule on social media with a "mission" to turn Bavaria into Europe's top space technology hub, while a predecessor blamed part of the party's slump on less conservative Germans moving to Bavaria from other parts of the country.
For the AfD, a showing of more than 10 percent underscored the strength of anti-Merkel sentiment among some voters, above all on migration.
"Those who voted for the AfD here in Bavaria, their message is that Merkel must go," AfD co-party leader Alice Weidel told party members in Munich.