Merkel's Allies Fear Succession Battle Will Tear Her Party Apart
(Bloomberg) -- As Angela Merkel battled Europe's multiple crises in 2014, Friedrich Merz was meeting with conservative critics to gripe about her leadership.
Merz's own political aspirations had long since been sidelined by the chancellor and his allies could tell it still rankled. On one occasion, his wife Charlotte vented their frustrations.
"Friedrich, you would have done a much better job," she said, according to a lawmaker who was present.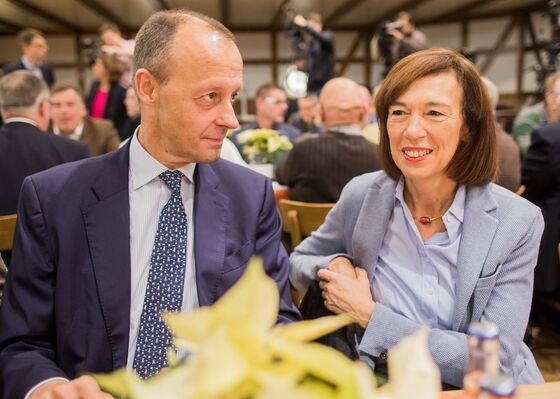 With Merkel's power ebbing now as she prepares to step back from her role as party leader, Merz may finally get a chance to prove his wife was right. But senior officials fear his power grab could start an internal war in Germany's biggest party, putting the chancellor's achievements in jeopardy.
The 63-year-old is Merz is one of two frontrunners in the race to take over from Merkel as head of the Christian Democratic Union when a 1,001 party delegates vote in Hamburg Friday. With opinion polls showing the CDU is unlikely to be unseated at the next election, despite Merkel's travails, the winner will become Germany's de facto leader in waiting as the chancellor's career winds down.
With two days to go, the race is wide open.
Merz's unrepentant conservatism has wowed traditionalists who bristled as Merkel dragged their party toward the center -- her former Finance Minister Wolfgang Schaeuble endorsed his candidacy on Tuesday. His rival, Merkel loyalist Annegret Kramp-Karrenbauer, appeals to those concerned about the turmoil a Merz victory might trigger.
Merz himself denies that he would seek to push Merkel out before she is ready.
"Every new party leader, me too, will be tied to the coalition agreement," he said at a campaign event last month in Luebeck near the country's Baltic coast. "This will also determine my future relationship to Angela Merkel."
But the party's rank and file aren't all buying that line.
"He is definitely not returning to politics because of the money," CDU member Eckhard Roeder said after listening to Merz that night. "He wants power. He will go for the Chancellery."
Although Merkel's position as chancellor is well protected by the German constitution, Merz could make life very difficult for her by laying open differences between her government and her party.
At another campaign event in the East he called for a debate about the constitutional right to asylum, a cornerstone of the post-war political order in Germany. Though he later rowed back somewhat, immigration policy would become tougher under Merz, who has repeatedly indicated Merkel's refugee policy is a betrayal of the party's conservative values.
One junior minister, who asked not to be named, predicted that Merz would immediately start hardening the CDU's position if he won and that would sooner or later trigger a clash with the chancellor. Merkel loyalists also fear he might use a poor showing in next May's European parliamentary elections to push for Merkel to step aside.
Though he's insisted on the campaign trail that he's happy to work alongside Merkel, days before she announced she was stepping down from the party, Merz was telling officials that the party was falling apart under her leadership. He also met with leading party officials to sound them out about a possible rebellion, according to an official briefed on the discussions.
Merz was a rising star of the CDU's conservative wing when Merkel took over the party in 2000 but he was forced out of his position as head of the parliamentary caucus after clashing with the new leader. Frustrated with life under Merkel, he left the Bundestag in 2009 to pursue a career in business, most recently with BlackRock Inc.
Back on the campaign trail after 16 years away from front line politics, there are chinks in Merz's self confidence when he's away from the spotlight. After the Luebeck campaign stop, he sought reassurance over dinner with his three aides from Gauly Advisors while checking social media to see that he'd gone down well -- while also wondering if the Brexit drama in the U.K. had toppled Theresa May yet.
But mostly his bullish mood matched his public persona.
He mocked Kramp-Karrenbauer's efforts to court the conservative vote and reeled off a list of Merkel's failures as chancellor -- her weakness in dealing with Donald Trump, her absence from the Brexit talks, her excessive bureaucracy and her slowness in addressing the defects in Germany's internet infrastructure.
"It's really fun to be back", he'd told the CDU crowd earlier. "Only now do I realize what I've been missing these past few years."