Merkel Rallies Conservatives to Fight for Embattled Successor
(Bloomberg) -- Chancellor Angela Merkel waded into the race to choose her successor on Saturday as polls show Germany's conservatives at risk of losing their long grip on power. 
In her first campaign appearance ahead of the nation's election in five weeks, Merkel called on her party to get behind Armin Laschet, who's struggling with a negative trend in the polls and growing internal criticism.
"I've experienced Armin Laschet as a person and politician," Merkel said at a CDU rally in Berlin. "He's building bridges between people, and he'll surely also do that as chancellor." 
She pointed out that the Sept. 26 vote will be the first election in post-war Germany where an incumbent chancellor isn't running for re-election. 
"The cards are being reshuffled," Merkel said. "This is worth fighting for."
Her show of support comes as the CDU becomes increasingly concerned about its prospects. Momentum has shifted to Finance Minister Olaf Scholz and his Social Democrats -- a distant third in polling until recently. The conservative bloc's lead is down to just one percentage point in a recent voter survey.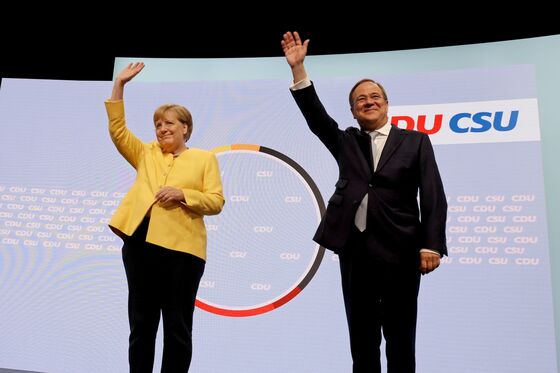 Preparing to step down after 16 years in power, Merkel, 67, remains Germany's most popular politician. Yet it remains to be seen how much sway she'll have when she's not on the ticket.  
Merkel's appearance in Berlin was sandwiched between a meeting in Moscow on Friday with Russian President Vladimir Putin, and one in Kyiv on Sunday with Ukrainian President Volodymyr Zelenskiy.
Speaking on Saturday, Laschet admitted that his campaign was running "differently than party strategists had thought." 
The CDU leader used his campaign speech to criticize SPD Foreign Minister Heiko Maas for the slow evacuation of Germans from Afghanistan. "There can be no return to business as usual," Laschet said. "We will need a new German foreign and security policy." 
He also called on Scholz to exclude the possibility of a coalition with the radical left after the election. Merkel, in contrast, refrained from any direct reference to the SPD or Greens.
Laschet was long the clear favorite to succeed Merkel while support for the conservatives remained strong. The thinking within the party was that enough voters would stay loyal and back Laschet, a consensus-seeking moderate in Merkel's mold. But after a series of gaffes, the bloc's support has eroded. 
In a closed-door caucus meeting on Thursday, some CDU lawmakers openly criticized Laschet's campaign, which many party officials perceive as too defensive, according to a participant. 
One lawmaker questioned whether the 60-year-old was the right candidate. Some have called for Laschet to step down in favor of Markus Soeder, head of the Bavarian sister party CSU, who was also at Saturday's event.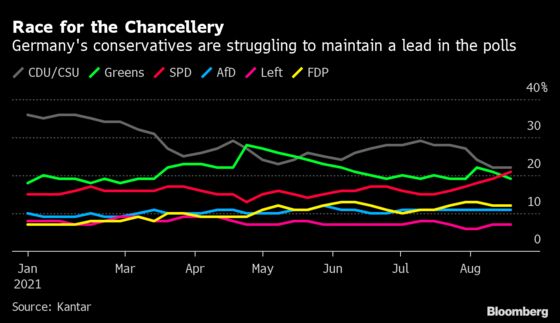 Despite higher approval ratings, Soeder, 54, lost his bid for the candidacy to Laschet in April after a long power struggle.  
"This will be a really tight race," Soeder said at the rally. "It's time to fight. I'm not in the mood for opposition." 
A few weeks ago Soeder criticized the CDU campaign as "sleepy," but he's promised his full support for Laschet in the final month of campaigning.