Merkel Sets Path to Gradually Ease Germany's Covid Lockdown
(Bloomberg) -- Chancellor Angela Merkel set out a plan to gradually unwind restrictions on Europe's largest economy, bowing to pressure from the pandemic-weary public.
After hairdressers resumed operations this week, the next step will start on Monday when book stores, flower shops and gardening centers can reopen, Merkel said late Wednesday after more than nine hours of tense talks with regional officials.
Further easing steps can follow every two weeks depending on local contagion rates, while an "emergency brake" was set up to react to hot spots. Remaining restrictions -- including the closing of hotels, restaurants and other non-essential retail outlets -- were extended until March 28, with the next round of talks set for March 22.
"It is now the task of politics to take the next steps," Merkel said. "These need to be easing steps, but at the same time they shouldn't throw us back" and lead to a "dramatic third wave."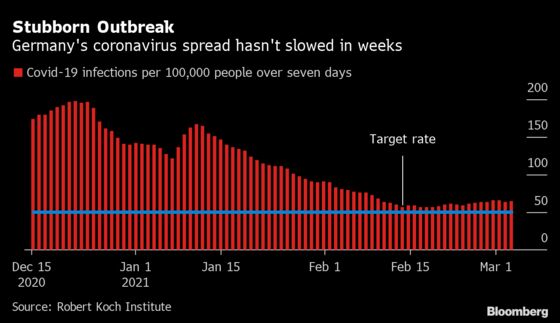 Amid resistance from some state premiers, the chancellor backed off her hard line, effectively acknowledging that the targets she set for the contagion rate wouldn't be reached anytime soon. She opened the door to the move last week, saying increased testing could provide a "buffer" to allow easing sooner.
German Finance Minister Olaf Scholz said rapid tests, as well as self-testing kits coming onto the market, should create additional room for lifting curbs going forward.
"I expect that after a short transition period enough tests will be available everywhere," Scholz said Thursday in an interview with ARD television.
Germany's latest strategy contrasts with neighboring France, where Prime Minister Jean Castex is expected to announce tighter restrictions later on Thursday, albeit limited ones. The government hopes its vaccination campaign will help avoid more stringent measures.
Germany will also look to accelerate its immunization program, using the maximum time allotted between first and second doses to get more people some level of protection from the disease.
"We want to be as flexible as possible, as we know we're in a race against time," Merkel said. "We can give the first inoculations to more people at a faster pace." Doctor's offices will also be integrated into the campaign by early April, she said.
Cautious Easing
Highlights from Germany's plans to loosen lockdown curbs:
Closure

of most non-essential shops, gyms, hotels and restaurants to be extended until March 28
First opening step:

Started March 1 with the opening of hairdressers

Second step from March 8:

Book stores, flower shops and gardening centers allowed to reopen with limits on customer capacity
Driving and flying schools allowed to reopen if customers can show a test result from the same day

Third step from March 8 where incidence rates are below 50:

Retail outlets can open with customer limits
Museums, galleries and zoos can reopen
Outdoor sport in small groups allowed

Fourth step if the incidence rate stays below 50 for another 14 days:

Outdoor restaurants, theaters, concert halls and cinemas can reopen
Non-contact indoor sport can resume

Fifth step if the incidence rate stays below 50 for another 14 days:

Outdoor events of

up to

50 people can take place
Contact sports can resume indoors

Emergency brake:

Restrictions to be reimposed if local incidence rate rise above 100 for three consecutive days
Germany's sluggish ramp-up of inoculations has added to pressure on the government. The country has administered 8 doses per 100 people, compared with more than 32 for the U.K. and 24 for the U.S., according to Bloomberg's Coronavirus Vaccine Tracker.
However, a majority of 52% still think the government's overall handling of the crisis has been positive, according to a Forschungsgruppe Wahlen poll of 1,202 voters for ZDF television published Friday.
They were more critical of the European Union, which oversaw the sourcing of vaccines, with 57% saying they had a negative opinion of the bloc's virus management.
In February, Merkel pushed to lower the target rate to 35 new infections per 100,000 people over a seven-day period amid concerns about more aggressive coronavirus strains. The hurdle has been reset at the earlier level of 50 with more leeway built in.
The latest figure edged up to 64.7 on Thursday, roughly the level it's been stuck at for around three weeks, according to data from the RKI public health institute.
As more people come into contact with one another, Germany will widen testing significantly. Companies will have to offer employees who aren't working from home at least one quick test a week, while all citizens will be allowed to receive a free weekly test.