Merkel Raises Possibility of Military Response in Syria
(Bloomberg) -- Chancellor Angela Merkel offered implicit support for military action against Syria, upbraiding her coalition partner for ruling out German participation in a response to an offensive in the country's last rebel stronghold.
Merkel's Social Democratic coalition partner this week rejected a German role in any military strike should President Bashar al-Assad and his backers create a humanitarian crisis in Idlib or deploy chemical weapons. Under the constitution, any German deployment requires a vote of approval by parliament.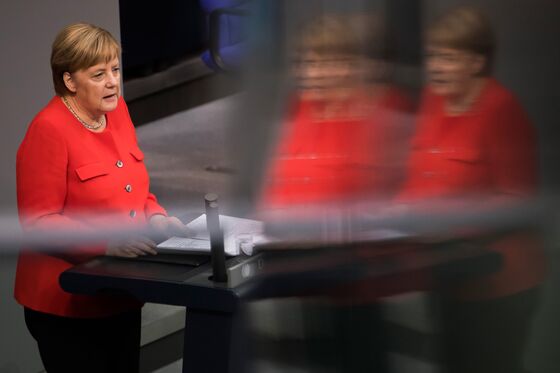 "Simply to say that we can pull away when chemical weapons are being deployed and international conventions are violated, that also cannot be the answer," Merkel told lawmakers in Germany's lower house on Wednesday.
While a political solution remains the preferred route, "to simply say no right from the start, no matter what is happening in the world, that cannot be Germany's position," she said.
Merkel's stance marks her latest attempt to nudge Germany toward a more active global role. On the other side, Germany's post-World War II identity as a pacifist power remains strong in much of the political spectrum, including the Social Democrats.
Foreign Minister Heiko Maas, a Social Democrat, made a plea for diplomatic pressure on Assad's backers in Moscow. Addressing lawmakers later Wednesday, he said he'll tell Russian Foreign Minister Sergei Lavrov to stop any atrocities in Syria when they meet in Berlin on Friday.
"We expect Russia to stand by its responsibility in preventing a humanitarian disaster in Idlib and Syria," Maas said.
Defense Minister Ursula von der Leyen, a member of Merkel's Christian Democratic Union, took up where the chancellor left off, saying Germany had an obligation to act in concert with its allies while sticking to its constitutional requirements.
Only when diplomatic avenues have been exhausted "and only then, will we decide as a government alongside the parliament what to do," she said.
Unlike the U.K. and France, Germany didn't participate in U.S.-led airstrikes in Syria in April in response to an apparent chemical weapons attack. That provoked criticism by U.S. Ambassador Richard Grenell, who at the time was President Donald Trump's nominee for the post. "Germany should have joined this P3 group, too," he said on Twitter.