Merkel Protegee Sticks to Her Mentor's Script in Succession Bid
(Bloomberg) -- Angela Merkel's preferred successor as party leader said she'll uphold the German chancellor's legacy that helped secure four election victories, presenting a centrist platform in a tight race to lead the Christian Democratic Union.
Annegret Kramp-Karrenbauer, elevated to a senior party post by Merkel in February, combined veiled criticism of her mentor with calls for a fresh start as she runs against BlackRock Inc.'s Friedrich Merz. A one-time Merkel rival, he represents a sharper break for a party itching for change.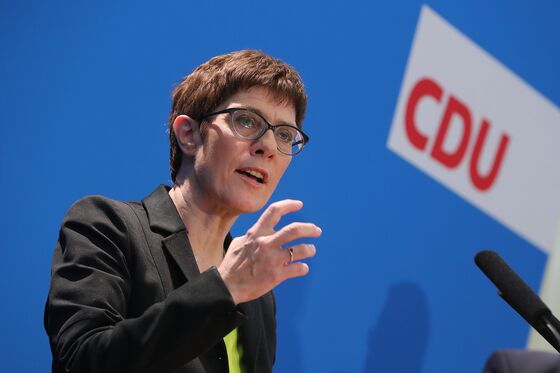 "I'm of the deepest conviction that the political stability at the root of Germany's success" lies with broad-based political parties, Kramp-Karrenbauer, 56, told reporters Wednesday in Berlin. The CDU should be "the political home for as many people as possible in this country."
Flagging the "end of an era" after Merkel's unexpected announcement on Oct. 29 that she'll cede the CDU leadership, Kramp-Karrenbauer sold her candidacy as an extension of Merkel's big-tent party strategy that's kept the CDU in power since 2005. At the same time, she took on the risk of coming across as a party soldier close to Merkel.
Whomever CDU delegates elect as party head on Dec. 7 will be viewed as first in line to run for chancellor in 2021 after Merkel said her fourth term will be her last. Having an ally such as Kramp-Karrenbauer in the post might make it easier for Merkel to serve out her term.
Merkel is "the elected chancellor of the Federal Republic of Germany and as long as she has a majority, she'll remain there," Kramp-Karrenbauer said. But her government needs to move forward from the "leaden times" of recent months, she said.
Kramp-Karrenbauer signaled she wouldn't throw out Merkel's accommodating migration policy. While the influx of almost 900,000 asylum seekers in 2015 "can't be reversed," public trust in migration policy can only be restored "step by step," she said, echoing language typical of Merkel. "You won't win it with loud noises," she said.
Dubbed "mini-Merkel" by some media, Kramp-Karrenbauer waited more than a week to present a platform after Merz and contender Jens Spahn, both viewed as more conservative, jumped into the ring.
The race for party leadership involves eight regional conferences that will allow regional CDU chapters to quiz the contenders. With the Christian Democrats mostly decimated in the formerly communist east, delegates from the big western states of North Rhine-Westphalia, Baden-Wuerttemberg and Lower Saxony will be key to the outcome at the convention in Hamburg.
For Merz, 62, the task is to rebuild his standing with the base, having left politics almost a decade ago after losing a power struggle with Merkel.
While Merz is cosmopolitan and touts his global connections in business and politics, Kramp-Karrenbauer is grounded in her home state of Saarland, a rural region near the French border that's struggled with the transition from heavy industry. As state premier, she reached across the aisle and partnered with the Social Democrats.
Kramp-Karrenbauer took a mild swipe at Merz, riffing off his quip 15 years ago that Germany's income tax should be simplified to fit on a beer coaster.
"Friedrich Merz has a lot to offer," she said. "If we can put aside the beer coaster and create a tax app within the CDU for the new challenges, that would be a great boon."