Merkel Pledges Funding for Islamist-Militant War in Burkina Faso
(Bloomberg) -- Chancellor Angela Merkel said Germany will provide 46 million euros ($52 million) to strengthen Burkina Faso's defense forces as the West African nation faces one of its worst security threats in years.
The money will help provide training and military equipment to Burkina Faso's troops, and fund development initiatives in regions hit by violence, Burkinabe President Roch Marc Christian Kabore said in the capital, Ouagadouou, on Wednesday.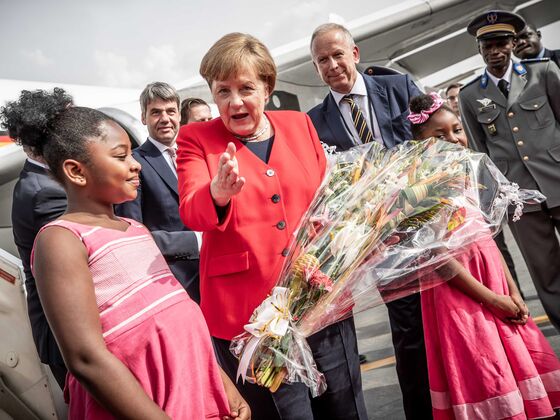 West Africa's Sahel region is being affected by increasing communal violence and attacks by militants allied with Islamic State and al-Qaeda. Mali, Burkina Faso and Niger are among the countries worst-affected by the unrest, with militants controlling swaths of territory and extremist-driven violence escalating. 
Germany's assistance will help Burkina Faso "better respond to the security issues in the north and to take actions that will help strengthen the resilience of the population in the area," Kabore said after meeting Merkel.
Merkel is on a three-nation tour of West Africa that includes a visit to Mali, where she will visit German troops deployed in the northern city of Gao as part of a United Nation's peacekeeping mission.
In Burkina Faso, Merkel is attending a meeting with heads of state from five West African nations that contribute troops to the G5 Sahel, a regional force fighting militant groups in the the semi-arid zone that stretches along the southern edge of the Sahara. The countries that contribute to the G5 Sahel are Burkina Faso, Mali, Niger, Chad and Mauritania.