Merkel Pleads for More Control to Break Third Pandemic Wave
(Bloomberg) -- Chancellor Angela Merkel defended her bid to take greater control over Germany's coronavirus restrictions to break a "very serious" wave of infections that's putting immense pressure on hospitals.
Speaking to the lower house of parliament in Berlin on Friday, Merkel pushed back against opposition to a law that would give the federal government the authority to impose local restrictions such as nighttime curfews and closing schools and non-essential stores.
"There is no way around it: We need to slow down the third wave of the pandemic and stop the rapid growth of infections," Merkel said during a speech, which was interrupted several times by opposition lawmakers. "The situation is serious and in fact very serious. The third wave of the pandemic has a tight grip on our country."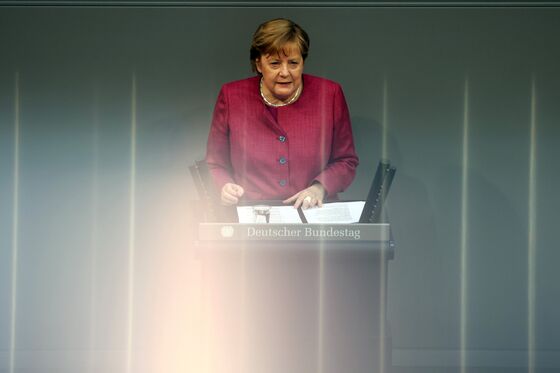 The German leader has forged ahead with her effort to effectively override regional authorities as a renewed surge in infections threatens to overwhelm the country's health-care system. Authorities have struggled to control the outbreak, and local officials have been hesitant to tighten restrictions less than six months before a national election.
The tension was underscored as thousands of demonstrators gathered in central Berlin this week to protest the law, which mandates strict curbs in areas with high infection rates.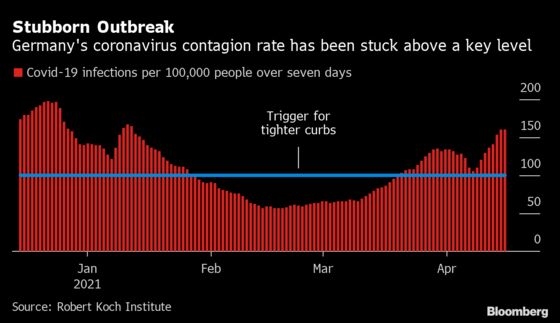 Germany's vaccine campaign has been picking up, including a daily record on Wednesday, but still trails many other countries. Doses covering 12% of the country's population have been administered, compared with more than 30% for the U.S. and the U.K., according to Bloomberg's Coronavirus Tracker. Merkel is due to get immunized against Covid-19 on Friday, nearly four months after the program started.
The updated pandemic law is set to be voted on by the Bundestag next week. The Bundesrat, which represents the interests of Germany's 16 states, is also due to have a say in the legislation. Some opposition parties have vowed to challenge it in court.
Merkel, meanwhile, called for urgency, saying "every day counts."
"Intensive care workers are sending one emergency call after the other," she said. "Who are we to ignore these emergency calls? We cannot leave doctors and intensive-care workers alone."