Merkel's Would-Be Heir Says Germany Comes First
(Bloomberg) -- Chancellor Angela Merkel's favored successor as party leader said she'll defend national interests against France, making her the second prominent German this week to call for a "Germany comes first" strategy.
Annegret Kramp-Karrenbauer, who some polls suggest is the front-runner to head Germany's Christian Democrats, borrowed from President Donald Trump's toolbox as she courts party conservatives with a strident tone that departs from Merkel's measured rhetoric.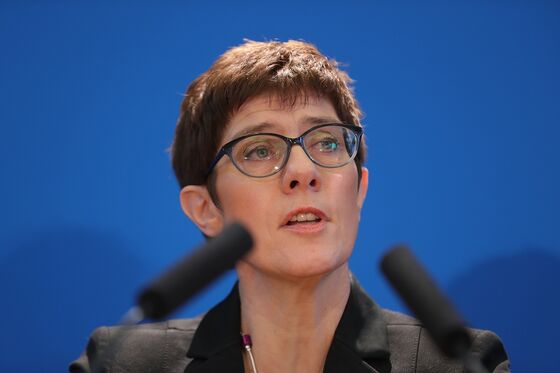 "No matter how charming the French are -- in France, it's always and above all about French interests," Kramp-Karrenbauer told a conference in Berlin on Wednesday. "You must know that, and we should have our German interests in mind first and foremost."
Siemens AG Chief Executive Officer Joe Kaeser said Monday that Germany must aspire to a distinct national strategy to maintain its place among competitors such as China and the U.S., while avoiding a nationalist "Germany Alone" approach.
The CDU's Kramp-Karrenbauer pushed back against French complaints that Merkel's government is holding up progress on French President Emmanuel Macron's agenda for overhauling the euro area, suggesting he shouldn't blame Germany for his low poll ratings.
"The situation in which Macron finds himself in France has much more to do with domestic problems at home than with the question of how Germany will respond to his European ideas," said Kramp-Karrenbauer.
A Merkel loyalist, Kramp-Karrenbauer is one of three top contenders to succeed Merkel as party head at a party convention on Dec. 7. The new party head will have first claim to be the Christian Democratic candidate for chancellor in Germany's 2021 election.
Kramp-Karrenbauer's main competitor, BlackRock Inc.'s Friedrich Merz, has criticized Merkel's response to Macron's proposals as inadequate. On Wednesday, he said one way forward could be "that we don't only talk about finance policy and higher spending."
It might make more sense to discuss "how Germany and France can develop marquee projects for the further integration of Europe," modeled on Airbus SE, Merz said during a online chat for Bild newspaper.