Merkel Party Split Reopens in Bid to End Crisis Over Far Right
(Bloomberg) -- Divisions in Chancellor Angela Merkel's party over how to isolate the far-right Alternative for Germany in an eastern German state parliament resurfaced, reversing signs that a constellation of parties in the legislature had found a solution.
Top members of Merkel's Christian Democrats on Saturday rejected a move by four parties in the Thuringian regional assembly to end a power vacuum in the state that followed elections in October. The plan to re-elect Governor Bodo Ramelow, a member of the Left party, is unacceptable to the CDU, several senior party figures said Saturday.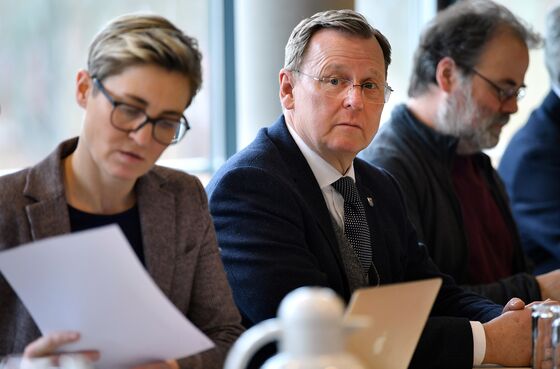 Re-electing Ramelow to the governorship with CDU support would harm the party's credibility, its general secretary, Paul Ziemiak, was cited as saying by Der Spiegel magazine. Former Finance Minister Wolfgang Schaeuble and Health Minister Jens Spahn also rejected the plan to support the anti-capitalist party, according to Der Spiegel.
Thuringia has become the eye of a maelstrom for Merkel. The state was thrown into turmoil after the election last year left no clear constellation of parties to rule. Alternative for Germany, or AfD, the second-strongest party, offered a way out of the impasse by proposing passive support for the selection of a new governor.
The gesture failed but left Thuringia's administration in limbo and embroiled the CDU -- and Merkel's leadership -- in a deepening crisis that included the resignation of Merkel's successor as national CDU chairwoman, Annegret Kramp-Karrenbauer.