Merkel Kept Her Decision to Quit as Party Leader a Secret for Months
(Bloomberg) -- Angela Merkel is good at keeping a secret.
The decision by the German leader to step down as chairman of her Christian Democratic party caught markets, and even her closest allies by surprise.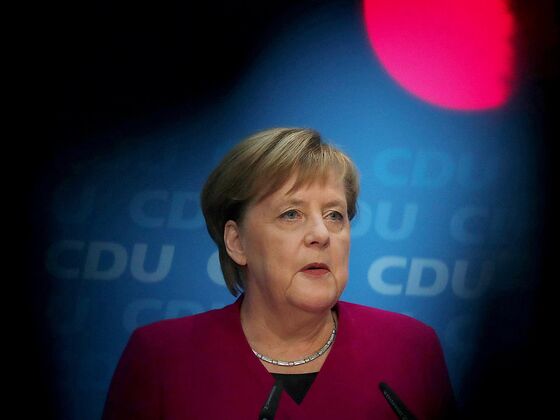 Turns out, the longest-serving leader of the Group of Seven had been plotting it all along. In a packed news conference on Monday she revealed that she'd decided before the summer break in July to quit as party chief. Her original plan was to announce it at a retreat this coming weekend in Berlin.
All this was news, until late last night, to party general secretary Annegret Kramp-Karrenbauer, a confidante she's groomed as a potential heir. "There are decisions in life where it is not helpful to let too many people know about them," Merkel said.
The state election in Hesse last Sunday -- where voters in a key state abandoned her party in droves -- prompted her to make a closely-guarded decision public a bit sooner. It wasn't, as the sequence of events initially suggested, a direct reason for stepping aside as chairman.
In fact, all this is yet another example of what the world has come to know of Merkel: She's a deliberate thinker. She wants to stay on as chancellor through the end of this term, which ends in 2021. This also suggests Merkel is operating on a careful time-frame in her own mind -- and taking it step by step.
Perhaps looming large in Merkel's mind was the fate of Helmut Kohl, her political mentor, who at age 68 insisted on running for re-election in 1998 and was trounced by the Social Democrats.
"My abiding desire was to occupy my political positions in government with dignity and to leave them with dignity," she told reporters.
Her understated ways were also in evidence when she burst on the scene, back in 2005. She showed up to her first news conference after coalition talks were completed and was asked by a reporter "Are you happy?" Her response was to simply say that she was "fine."
Nor would she be drawn into hyperbole when another journalist persisted: "I've already said I'm in a good mood, but I know what confronts us."
She herself recalled that time "when I publicly announced my first candidacy on the 30 May 2005 right here, I explained it with the fact that I want to serve Germany."
"I am very thankful that I have been able to do this for this long," she said. "I once said I wasn't born a chancellor and I never forgot this."