Merkel and Erdogan Clash in Berlin Over Turkish Reporter
(Bloomberg) -- Angela Merkel's signals to Turkish President Recep Tayyip Erdogan were clear: this isn't reconciliation -- not even close.
With Erdogan under pressure from economic woes and U.S. sanctions, the German chancellor opened her door to the Turkish leader, only for them to clash over democratic standards, press freedom and Germans imprisoned in Turkey. At one point Erdogan demanded Germany extradite a Turkish journalist convicted of spying, seconds after Merkel made it clear that she's opposed.
The split over Can Dundar, a former newspaper editor who faces an almost six-year prison sentence back home, threatened to derail Erdogan's bid to repair relations with the German leader and move forward from recent hostility toward the European Union.
"On the one hand, there's a shared strategic interest in good relations," Merkel said at a joint news conference after the two leaders met in Berlin on Friday. But there also are "profound differences" about what constitutes "a free, democratic, open society," she said.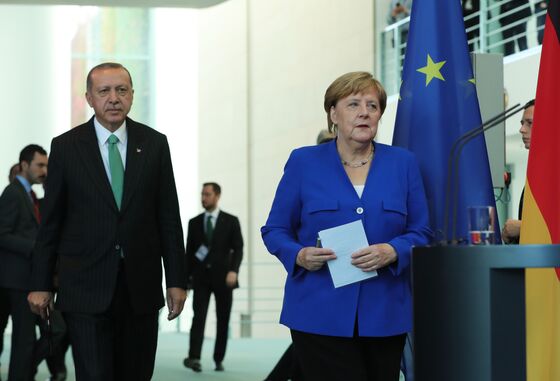 Against the backdrop of anti-Erdogan protests in Berlin, Dundar's case became a topic after local media reported that the president threatened to cancel his news conference with Merkel if the reporter attended.
A former editor-in-chief of Cumhuriyet newspaper who now lives in Germany, Dundar spent three months in jail for reporting on Turkish arms shipments to Syria. Freed pending trial in February 2016, he was subsequently sentenced to five years and 10 months in prison.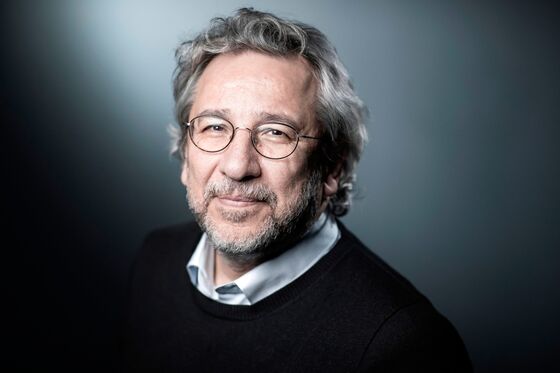 Dundar said in a video on his Twitter account that he'd decided not to attend after learning of Erdogan's threat to boycott. Merkel addressed the case, telling reporters that she and Erdogan have "divergent views" on whether he should be extradited.
"This person has been convicted. He's a spy. He has revealed state secrets," Erdogan said. It's Turkey's "most natural right" to request his extradition, he said.
Rule-of-law issues, including Merkel's demand to free German citizens imprisoned in Turkey, dominated the media appearance, which at one point was disrupted by a protester who was hauled out by security. Questions of regional cooperation on Syria and Turkey's economy took second billing.
Merkel, whose country is Turkey's biggest trade partner, offered expanded economic cooperation, with a dormant German-Turkish commission to hold its first meeting and Economy Minister Peter Altmaier, a Merkel confidant, set to head a delegation to Turkey in October. The two leaders also agreed to hold a meeting on the war in Syria with Russian President Vladimir Putin and French President Emmanuel Macron this fall.
Merkel and Erdogan are attempting to ease tension after Erdogan last year accused German officials of using Nazi methods to stop his officials from campaigning among Germany-based Turks ahead of a referendum that increased his powers. The meeting also was meant as a contrast to Erdogan's brief encounter in New York with U.S. President Donald Trump, a NATO ally he's accused of waging "economic warfare" against Turkey.
Yet Merkel has little incentive to give up on European principles. While the countries are bound together by an estimated 2.8 million residents of Turkish descent in Germany and almost 7,000 German businesses operating in Turkey, an FG Wahlen poll published this week suggests that about nine in 10 Germans view democracy as being threatened in Turkey.
For a wide spectrum of German politicians, giving Erdogan the honor of a state visit was seen as an offer for him to make amends and show he's ready to turn the page. Several opposition leaders boycotted a state banquet hosted by German President Frank-Walter Steinmeier on Friday evening, which Merkel also didn't attend.
Concluding his visit on Saturday, Erdogan plans to open a mosque in Cologne after meeting Merkel again for breakfast at the chancellery in Berlin.
"A single visit can't restore normalcy," Steinmeier said in his dinner toast. "But it could be the beginning of a path that leads to renewed trust through many, tangible steps."