Merkel Enters Her Endgame Marking Out Defense of Global Order
(Bloomberg) -- The final chapter of Angela Merkel's chancellorship is starting to take shape.
The German leader begins 2019 with a two-day trip to Greece, her first visit in five years to the crisis-scarred country that posed two of the defining challenges of her career. Later this month she'll meet President Emmanuel Macron to sign a treaty renewing Germany's post-World War II commitment to France.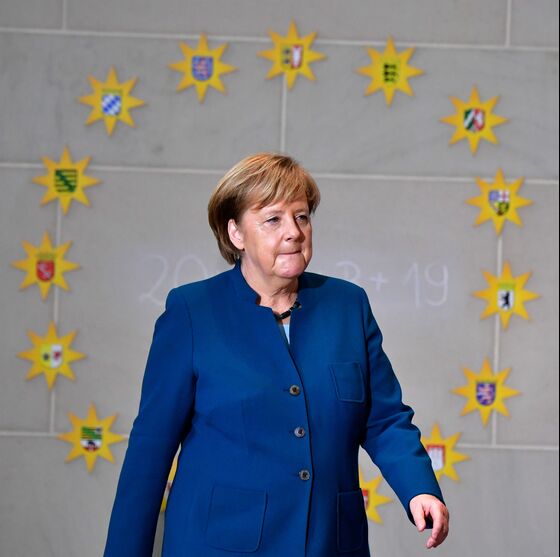 After surrendering the leadership of her party and setting an end date to her chancellorship to conclude a year of domestic struggles, Merkel is returning to the international arena without any concerns about reelection.
"She has freed herself from some of the nitty-gritty of domestic German party politics," Carsten Nickel, managing director at Teneo in London, said, adding that it allows her to focus "on big issues on the international stage."
Merkel flies to Athens Thursday for a meeting with Prime Minister Alexis Tsipras and a dinner hosted by the Greek leader. The schedule will be filled out Friday with a wreath-laying ceremony, a meeting with Greek President Prokopios Pavlopoulos and a chat with students at the German School of Athens.
The full program, a contrast with her brief stopover in April 2014, is a reminder of the geopolitical crises that shaped Merkel as Europe's preeminent leader -- the euro crisis and Europe's migration turmoil. It'll mark Greece's exit from an eight-year bailout program and its economic recovery.
Merkel also arrives at a precarious moment in Greece's name dispute with its northern neighbor, the Republic of Macedonia, a conflict that has implications for NATO expansion and Russian influence in the Balkan region. The German leader has come out strongly in favor of the proposed settlement, which has opened divisions in Tsipras's governing coalition.
The trip signals Merkel's ambitions to defend the postwar global order against an onslaught of populist movements and the unpredictable presidency of Donald Trump. Merkel's primary theme since Trump took office two years ago has been addressing the risks tied to the eroding global trade and security order.
Another plank of her response has been to bolster ties with France, an overture on full display two months ago as the two embraced at a ceremony in Compiegne north of Paris to commemorate the 100th anniversary of the Armistice signed to end World War I. The chancellor views the bond between the two nations as the core of European unity, even though she's failed to deliver on most of Macron's wishlist for closer integration.
The two leaders will meet on Jan. 22 to sign the treaty in Aachen, near the German-French border, which was the power center for Charlemagne, the 9th century emperor who symbolizes European unity. The document is an extension of the Elysee Treaty that sealed postwar reconciliation between the two nations in 1963 and will "raise bilateral relations to a new level," according to a draft of the document.
The accord calls for greater cooperation on EU efforts on security and the economy -- and for working toward a "German-French economic space with common rules." German Foreign Minister Heiko Maas said the treaty is meant to send a clear message at a time when populists are campaigning for what he called "national egotism."
In her New Year's Eve address to the nation, Merkel said nationalism remains a key threat to the global order and that climate change, migration and terrorism are challenges best addressed "when we take interests of others into account."
"That is the lesson of two world wars last century," Merkel, who says she's prepared to remain in office until the end of the legislative period in 2021, said in the speech. "Today, that conviction is no longer shared by all."