Merkel Dealt Unprecedented Blow by Rebels as Caucus Chief Ousted
(Bloomberg) -- German Chancellor Angela Merkel suffered a shot across the bow from her party's lawmakers after they unexpectedly rejected her choice of caucus leader in a major challenge to her authority.
The first contested vote since 1973 for her Christian Democratic-led bloc's leader in parliament turned into a lightning rod for dissatisfaction with Merkel's policies and leadership style. Just two days earlier, she had halted a coalition clash that put her parliamentary majority at risk for the second time in three months.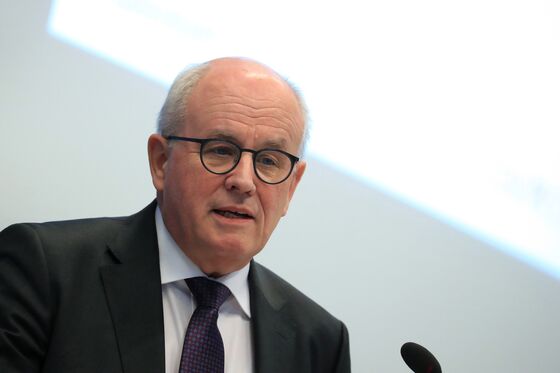 Caucus members voted out Volker Kauder, Merkel's trusted top lieutenant in parliament since she took office almost 13 years ago, and replaced him with Ralph Brinkhaus, a fiscal conservative who ran on a platform of bringing in fresh faces. He won the closed-door ballot on Tuesday by 125 votes to 112, according to a caucus statement.
While the result probably won't have immediate consequences for Merkel, it bares cracks in her power base that date back to Europe's debt crisis and widened as her open-borders refugee policy antagonized parts of her bloc. The caucus comprises her Christian Democratic Union and its Bavarian sister party, the Christian Social Union.
"I think we need to get back to work very quickly," Brinkhaus, 50, said in brief comments to reporters after the vote. "We have ambitious projects ahead of us. Now we need to look forward together."
In public, Merkel critics were keen to play down the impact on the chancellor.
Horst Seehofer, the leader of Merkel's CSU Bavarian sister party who prompted a coalition crisis over migration this summer, said the result must not be "over-dramatized," adding that the fallout will only become clear in time.
Hans Michelbach, a CSU lawmaker and skeptic of euro-area bailouts backed by Merkel, said the vote reflected the parliamentary group's desire for a "new start."
"This was not a vote for the chancellor," Michelbach told reporters. Lawmakers' desire for more involvement in the government also led to the result, he said. "I think the government's work will be strengthened by a more confident caucus."
Still, polls suggest the coalition turmoil is undermining support for Merkel's government, which includes the Social Democrats as junior partner. Twice in the last two days, the chancellor has expressed regret about the infighting and pledged to halt it.
On Sunday, Merkel patched up a coalition conflict over the removal of Germany's domestic intelligence chief, who had defied her by questioning whether a video from a far-right protest in August was authentic.
It's a sign that gridlock risks becoming the norm in Merkel's government, which took office in March after support for her Christian Democratic-led bloc and the Social Democrats fell to historic lows in Germany's election last year. Like much of the turmoil in her fourth term, the conflict is rooted in political fallout from the refugee crisis that hit Germany in 2015.
Support for Merkel's bloc fell to 28 percent in an Infratest Dimap poll last week, the lowest level since the poll's inception in 1997 and almost 5 percentage points less than its tally in the 2017 election. The anti-immigration Alternative for Germany, or AfD, rose 2 points to a record of 18 percent, according to the poll for broadcaster ARD.
With more than three years left in her fourth term, Merkel is still trying to regain her footing after the election a year ago. She needed two tries before setting up a new government with the same parties as the previous one and, on her watch, the AfD became the first far-right party to enter parliament since the immediate aftermath of World War II.
Brinkhaus framed his challenge of Kauder, 69, as a move to rejuvenate the 246-member caucus and avoided criticizing Merkel herself.
"I'm running because I believe the caucus needs new ideas and new impulses so we can operate successfully over the next three years," Brinkhaus said on Facebook on Sept. 7.