Merkel Dampens Latest Speculation She Could Soon Step Aside
(Bloomberg) -- German Chancellor Angela Merkel pushed back against renewed speculation she could soon step down, saying she won't make any big announcements at a party meeting scheduled after next month's European election.
The German leader was asked about the implications of a meeting called by Annegret Kramp-Karrenbauer, the head of Merkel's CDU party, for the beginning of June -- and whether she could spring another surprise after unexpectedly stepping aside last year as party leader.
"I can answer your question with a clear no," Merkel said at a press conference in Berlin alongside the Iraqi prime minister.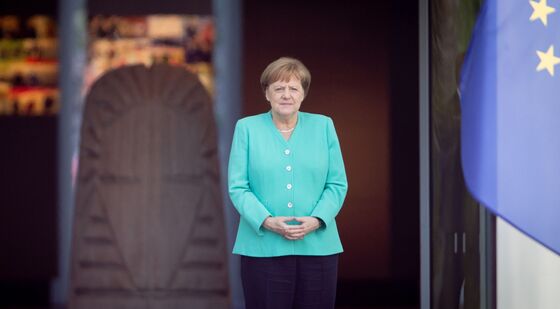 The CDU meeting is timed to deal with any fallout after the May 26 continent-wide vote, which may set political wheels in motion in Berlin. A poor result for the main parties could force a reckoning for the 13-month coalition of Merkel's Christian Democratic-led bloc and the Social Democrats.
Merkel's bloc has failed to make gains in opinion polls in the five months since Kramp-Karrenbauer took over, making for an awkward cohabitation for the two women. With Kramp-Karrenbauer as the heir apparent for the chancellorship, the CDU and its Bavarian CSU sister party slipped a point this week to 27 percent, according to Forsa survey.
The June party meeting was announced with little fanfare. Still, the German press was rife with speculation on what it could mean. Bild newspaper, Germany's most read, headlined a story: "Will Chancellor Merkel Resign After the EU Election?" Sueddeutsche Zeitung printed an op-ed calling for a cabinet reshuffle.
At Tuesday's news conference, Merkel was asked about her shock announcement after losses in regional elections last year that she wouldn't run for the party leadership again -- and whether there was anything she "would like to tell the public."
Merkel's answer was terse. She quickly moved on to a query about the Islamic State.