Merkel Cautions of Easing Lockdown in 'Last Stretch' of Pandemic
(Bloomberg) -- German Chancellor Angela Merkel said it's still too soon to ease the lockdown in Europe's largest economy even as the pandemic shows signs of easing.
"We must stand on solid ground so we can open without having to close again soon," the 66-year-old leader said in an interview with RTL Media Group, her second television appearance this week. "We need to be very careful in this last stretch so that not so many people die."
Merkel and regional leaders are set to meet next week to discuss whether to continue the current lockdown, which includes shuttered bars, restaurants and most retailers, beyond Feb. 14. Earlier on Thursday, she said that child-care centers and primary schools would be among the first to reopen, if and when infection rates allowed it.
Merkel and European Commission President Ursula von der Leyen have taken heavy flak from German media and opposition parties over a Covid-19 vaccine campaign that has been hobbled by delays and confusion.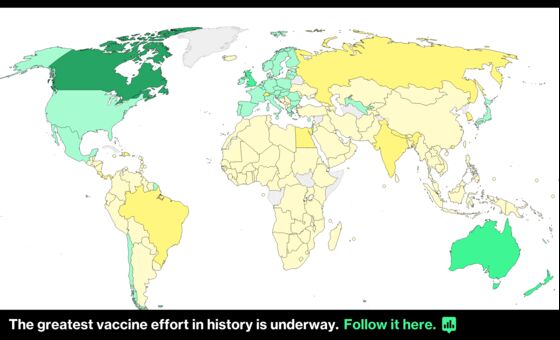 Merkel rejected criticism that the European Union had been too timid and slow in purchasing vaccines, saying there was no evidence that faster, more expensive acquisitions would have brought more doses early on.
Germany has vaccinated more than 3 out of every 100 people, compared with almost 11 per 100 in the U.S. and almost 16 per 100 in the U.K., according to the Bloomberg Vaccine Tracker. While the U.K. and America began immunizing several weeks earlier thanks to quicker approval, Germany's rollout has been hampered by supply issues.
Merkel's governing coalition late on Wednesday agreed to further support companies and citizens hit by the fallout from the coronavirus pandemic. Senior officials in Merkel's coalition signed off on measures including increasing the amount of losses a company can write off against tax to as much as 20 million euros ($24 million), as well as a child-benefit bonus and an extension to a lower sales-tax rate for restaurants.