Merkel Witnesses 'Surreal' Devastation of Germany's Floods
(Bloomberg) -- Chancellor Angela Merkel toured areas of western Germany that suffered devastating floods over the past week, declaring the situation "frightening" and pledging help for those affected.
The images of damage and the associated human suffering may shift Germany's political landscape as well. Merkel hinted at a pivot to tackling the impact of climate change at a time the Green Party, with its focus on the environment and sustainable development, is rising as a political force. German voters will elect a new government in September.
The chancellor's visit also came a day after her heir-apparent, Armin Laschet, was filmed video laughing while Germany's president made somber remarks about the flooding during a visit to the region, putting Merkel into damage-control mode.
"We came here today to make it clear we get a real picture of a surreal situation," Merkel said in remarks in Adenau, Rhineland-Palatinate. "We will face the nature's violence in the short term, but in the long term, we will want to drive more climate policies."
The death toll from the nation's worst flooding in decades has exceeded 180 as rescue efforts continue, with scores of people still unaccounted for. Residents climbed onto rooftops and into trees after houses were inundated or collapsed. Thousands of homes were left without power and phone connections.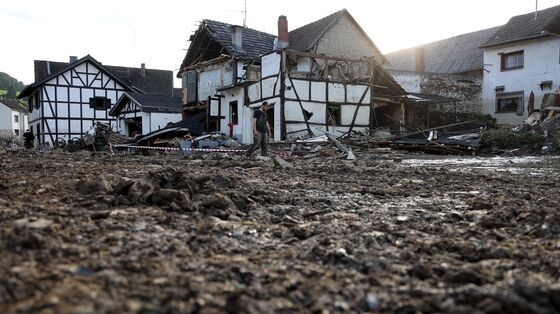 In Schuld, another small town hit by flooding, the chancellor spoke directly with firefighters and members of rescue teams. She promised to return in August to check on reconstruction efforts.
Under fire from opposition politicians, Laschet, 60, apologized on Twitter for Saturday's incident. Still, the implication of an empathy gap threw a new twist into Germany's election campaign at a time he's trying to emerge from the shadow of Merkel, who's been chancellor since 2005 and is the only leader many younger voters have known.
Support for Germany's Green Party was at 18% in a weekly poll released Saturday. If replicated in September that would be enough to create a governing majority with the Social Democrats and the pro-business Free Democratic Party, according to Bild am Sonntag.
Now headed by 40-year-old Annalena Baerbock, the Greens have become a bigger force in German politics after receiving 8% of the vote in 2017. Climate change is likely to be top-of-mind for many voters after the past week's dramatic flooding.
Earlier on Sunday, Finance Minister Olaf Scholz promised emergency aid of at least 300 million euros ($354 million) to flooding victims and a multi-billion dollar program for reconstruction of towns affected, in an interview in Bild am Sonntag.
Much of the aid will be paid to the states of Rhineland-Palatinate and North Rhine-Westphalia, although other parts of Germany have seen damage was well. Parts of Bavaria were hit by flash floods on Sunday.
The damage was "immense" and the burden must be distributed fairly, said Scholz, who believes the disaster is a consequence of climate change.
Scholz criticized the slow development of renewable energy in Europe's largest economy.
"We must finally make faster progress with the energy transition. It is irresponsible that the Union has so far been expanding wind turbines and has braked solar systems. When it comes to climate protection, the foot should be off the brakes."
Economy Minister Peter Altmaier also leaned into climate policy in a Bild am Sonntag interview, saying Germany could direct additional revenue expected from its economic expansion to climate-related projects.
"I am quite sure that we can create climate protection without having to give up our individual or social prosperity," said Altmaier to the newspaper.