German $55 Billion Plan to Scrap Coal Clears Cabinet Hurdle
Chancellor Angela Merkel's cabinet approved legislation that sets out the timetable to close more than 100 coal power plants across Germany, cementing the essence of a program to make Europe's biggest economy greener.
The bill foresees 50.8 billion euros ($55 billion) of compensation for regions and companies that rely on coal. That includes payouts for utilities led by RWE AG and Uniper SE that have to close facilities.
The decision ends a year of fierce wrangling between Merkel's government, coal state governors and utilities over the cost of phasing out coal as a power-generation fuel by 2038. Environmental groups and the opposition Greens urged Merkel to restrict compensation, arguing that market forces are already weighing on utilities to close the most polluting plants.
The legislation's significance "can't be exaggerated," said Finance Minister Olaf Scholz. "Within a few short years, Germany will put a central part of its energy supply on a new footing -- modern, climate-friendly and future-orientated."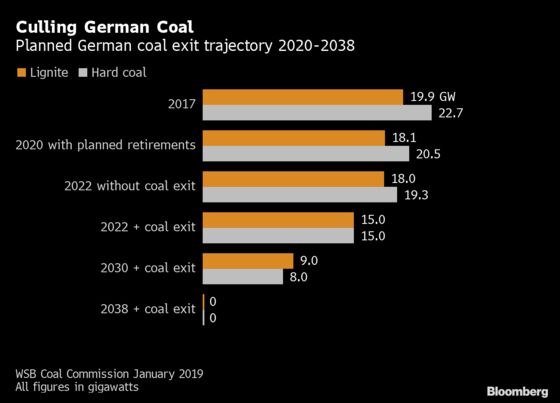 In last-minute deliberations, the coalition added details outlining payments that may total as much as 2.2 billion euros for those utilities, fixing maximum prices that the government will pay for plant closures through 2026.
Compensation for the coal phase-out embedded in the bill envisages payment of 40 billion euros in structural aid for the four main coal regions, a further 4.8 billion euros in labor-market programs and a minimum of 6 billion euros to utilities. The legislation must still run through various stages of parliamentary approval in coming weeks.
In separate negotiations this month, RWE secured compensation of 2.6 billion euros for its lignite operations, a sum it said was below the 3.5 billion euros it faced in costs. Another 1.7 billion euros was earmarked for Eastern German lignite operations that are mainly controlled by Energeticky a Prumyslovy Holding AS, a Czech company.
Shares in RWE rose as much 1.2%, while Uniper advanced 0.2% in Frankfurt.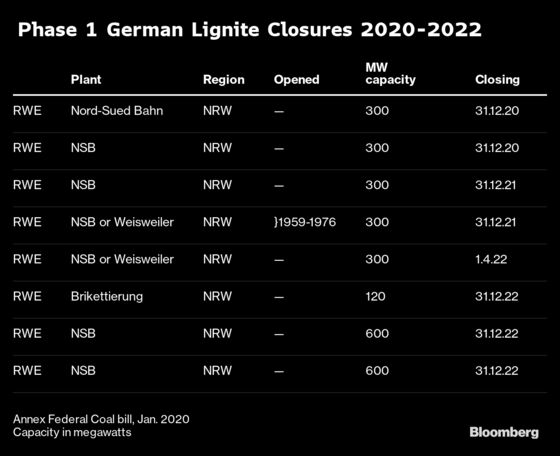 Hard coal plants must compete in annual auctions running from this year to 2020 to win compensation to close. The lower the bid, the bigger the chance a utility will be offered cash to shutter a plant. The government set maximum bid rates this year at 165,000 euros ($181,000) per megawatt, a rate which will decline progressively to 49,000 euros/MW by 2026, according to the legislation.
Merkel's government envisages that hard coal plants -- which rely on imported raw material -- will close down sooner than lignite plants even though the fuel emits the most pollution. There are also more jobs tied to the softer fossil fuel.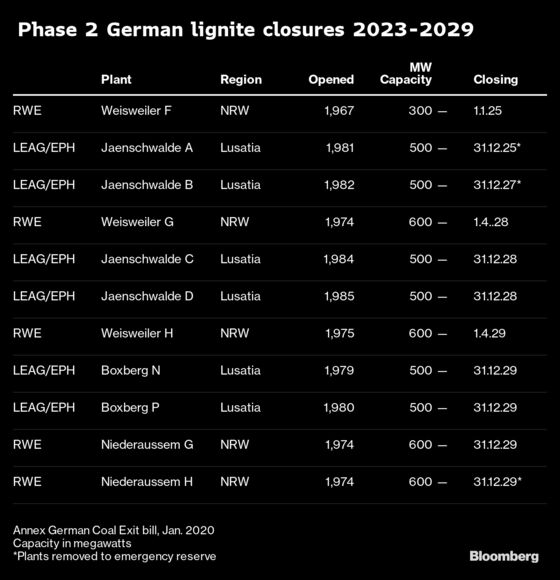 The nation's energy sector, led by coal plants, emits about a third of all carbon emissions. The industry also supplied a third of the nation's electricity last year.
As it stands, the coal exit plan needs to incorporate additional steps to cut 10 million tons of carbon emissions linked to the energy sector that will emerge by 2025, said Economy and Energy Minister Peter Altmaier today. "We will have to think of a way to close the gap," he said.
Germany has targeted a share of 65% for clean power in the energy mix by 2030, compared with 43% by the end of last year. But growth in onshore wind is stalling and critics have raised concern over closing too much coal generation quickly -- an issue that may sway lawmakers to seek further changes when the legislation enters the lower chamber next month.