Merkel and Conte Show Common Front in Push for Recovery Fund
(Bloomberg) -- German Chancellor Angela Merkel showed a united front with Italy's Giuseppe Conte days ahead of a crucial European Union summit, warning that EU leaders need to deliver a "massive" response to the economic fallout of the coronavirus pandemic.
The German leader's common line with the Italian prime minister was a sales pitch in favor of a proposed 750 billion-euro ($853 billion) recovery plan, which has met with resistance from a handful of member states concerned by the cost.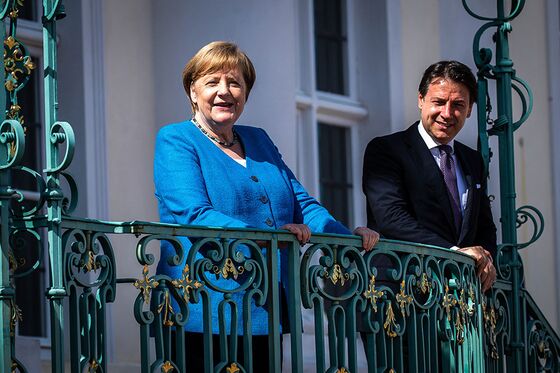 "It has to be something special -- and it can't be dwarfed" in size by horse-trading compromises, Merkel told reporters outside Berlin alongside Conte. "The task is a huge one, so the response also has to be a big one."
EU leaders will gather in Brussels on Friday for the first time since the pandemic swept the continent. On the table is a recovery fund backed by Germany and France intended as a show of solidarity to nations hit hardest by the illness, such as Italy and Spain.
Italy, which has tallied almost 35,000 deaths from the virus, stands to become the biggest beneficiary of the EU package. Conte said his government is willing to accept tighter criteria for the grants and loans package, a signal to nations such as the Netherlands, which have demanded a set of conditions attached to any funding.
"The European Council must take a decision that is coherent with the level of ambition of the commission and Franco-German proposals," Conte said. "We must say 'yes' immediately to an instrument."
Merkel hosted the Italian premier at the government guest house, an 18th-century baroque palace in Meseberg, an hour's drive north of Berlin. She'll host the Spanish prime minister, Pedro Sanchez, at the chancellery on Tuesday.
Portugal's prime minister, Antonio Costa, was in the Hague Monday to urge his Dutch counterpart Mark Rutte to drop his opposition to certain aspects of the plan and emerged from the talks encouraged that a compromise would be found.
"There are still various points of divergence, but I clearly felt in Prime Minister Rutte a great will for an agreement to exist, and preferably in this month of July," Costa told reporters after the meeting.
For his part, Rutte is still asking for stronger conditions tied to EU grants, telling members of parliament on Tuesday that he is "somber" about the upcoming summit.
Rutte stressed the need for a governance structure that could monitor reforms and "if that governance is in order that could be a road to subsidies," adding that he doesn't yet see that road.