Merkel Ally Slams U.S. for Afghan Debacle as Tensions Rise
(Bloomberg) -- An ally of Chancellor Angela Merkel condemned U.S. President Joe Biden's decision to rapidly withdraw from Afghanistan and said the fallout would lead to a more independent defense strategy for Germany and Europe. 
"Nobody asked us whether it was a good idea to leave that country in such a quick way," Johann Wadephul, a deputy caucus leader for Merkel's Christian Democrats in the Bundestag, said in a Bloomberg Television interview. "So, the very irritating situation we now have -- the chaos we are facing in Kabul -- is of course the result of this."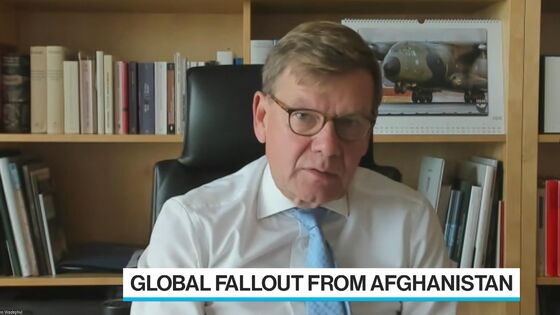 European officials have laid bare their frustrations with the U.S. in the days since the Taliban took control of Afghanistan, and the German lawmaker indicated the failure would have a lasting impact on transatlantic relations.
Wadephul pilloried the U.S. withdrawal, calling it chaotic and asserting that negotiations with the Taliban's political leadership in Doha could have continued. He also said American counterparts took little heed of input from Germany, which had the second-largest troop deployment in Afghanistan. 
Norbert Roettgen, the Christian Democrat who chairs German parliament's foreign affairs committee, also voiced similar condemnation. 
"Things haven't just gone wrong -- it's a catastrophe," Roettgen told reporters on Wednesday ahead of a briefing on the situation in Kabul. "It's a moral failure of the West -- and the geopolitical consequences are still difficult to discern. It's a breaking point."  
Wadephul bluntly reinforced Merkel's call for Germany and the European Union to take more control of security interests, a geopolitical shift away from U.S. dominance since the end of World War II. 
"We have to acknowledge that the United States will no longer be the policeman of the world" and guarantee Europe's security, Wadephul said from his Berlin office on Wednesday. "We have to do more."