Merkel Ally Urges Germany to Circumvent EU on Covid Shots
(Bloomberg) -- A senior member of Angela Merkel's conservative bloc took a swipe at the chancellor's vaccine strategy, calling for Germany to purchase shots at the national level because the European Union is too slow.
Merkel has been under fire over delegating purchasing and distribution of Covid-19 vaccines to the EU, which is being blamed for the sluggish rampup. Alexander Dobrindt, the caucus leader for the Bavarian sister party of Merkel's Christian Democrats, said Germany should get shots from Russia and China to accelerate its inoculation program.
"Germany cannot wait for the big and slow tanker EU in such an essential matter," Dobrindt, the caucus leader for the CSU, told reporters in Berlin on Tuesday. "We need to approve and buy Russian and Chinese vaccines nationally in order to compensate for deficits on the EU level."
The comments by Dobrindt, a frequent Merkel antagonist, bring the criticism closer to the chancellor. The Social Democrats, her junior coalition partner, has been piling on the pressure in recent days as it seeks to shake off a long losing streak in elections in September.
Germany has administered less than 4 doses per 100 people, compared with 19 for the U.K. and 13 for the U.S., which started vaccination programs a few weeks earlier, according to the Bloomberg Vaccine Tracker.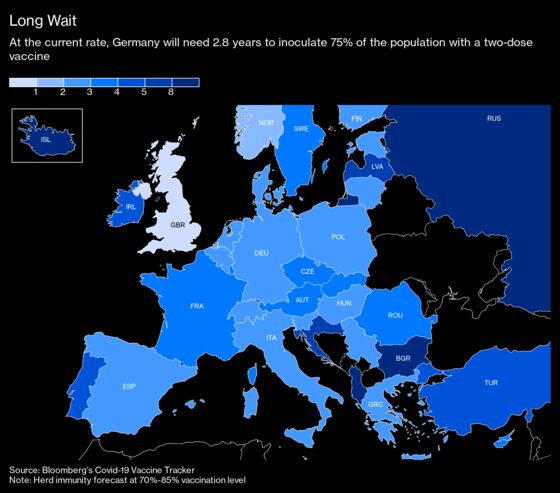 Bypassing the EU's European Medicines Agency wouldn't necessarily mean that Germany could immediately buy and distribute vaccines from Russia and China. The country's own regulator would need to examine study data from the vaccines to determine they're safe and effective. But Dobrindt said the possibility exists.
"We can do national approvals," he said. "Fortunately we have not abandoned this. It's all still there."
The Russian and Chinese vaccines have drawn the most interest in developing countries without the resources to buy and distribute the Western mRNA-based shots, which require deep-freeze storage. While both Russia's Sputnik V team and Chinese development officials have had fact-finding meetings with the EMA, the regulator has yet to start reviewing the vaccines.
Fast-spreading variants of the disease are adding urgency to the push to inoculate people. Dobrindt said recent studies have shown that new mutations make up 20% of infections in country.
"It must be the primary interest of a country that it orders enough vaccines for its own people," he said. "I can't be the last in the queue of vaccine buyers out of some vague moral reasoning and then complain that I'm not getting enough."