Melania Trump Feeds Elephants in Kenya, Drawing Contrast With Stepsons
(Bloomberg) -- First lady Melania Trump played with orphaned elephants in Kenya on Friday, providing a contrast with her stepson, Donald Trump Jr., who was photographed holding a severed elephant tail in one hand and a knife in the other during a big game hunting trip in Africa.
Her visit to the David Sheldrick Wildlife Trust, an elephant orphanage in Nairobi, came on the fourth day of a week-long visit to Africa. The first lady also stopped at a site where ivory burns take place -- a conservationist effort meant to discourage the ivory trade.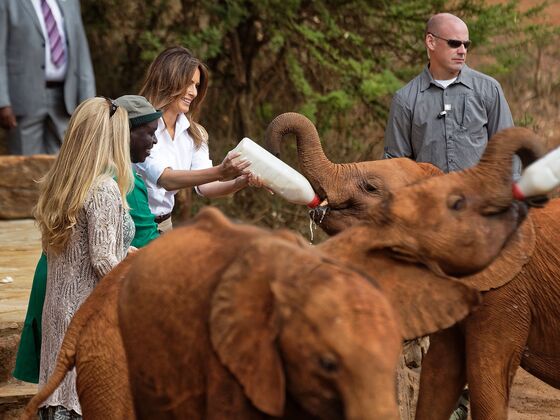 "It is sad to see this," she told her guide, after picking up a handful of the ash. The most recent burn was in 2016.
The U.S. in March opened the door to allowing elephant hunters to bring tusks and other animal parts into the country as trophies, despite President Donald Trump's condemnation of the practice as a "horror show." The Interior Department said it would revise the way it reviews applications to import hunted animal parts in response to a federal court opinion that related to African elephants killed in Zimbabwe.
The officials at the elephant orphanage told Melania Trump that the program raises by hand animals displaced by deforestation, drought and humans. Only 10 percent of Kenya's landmass is protected wildlife habitat, her aides told her. She watched as the elephants ate grewia, a natural vegetation, and drank a special milk made of human baby formula, coconut and other natural fats. Trump cautiously helped one baby elephant drink from its bottle.
The president's sons, Donald Trump Jr. and Eric Trump, are avid hunters. Photographs published online in 2012 after a safari hunt show both posing with dead animals, including one image in which Trump Jr. stands holding an elephant tail in one hand and a knife in the other.
The president does not appear to share his sons' enthusiasm for the activity; in 2012, he told TMZ that he is "not a believer in hunting."
The Interior Department's Fish and Wildlife Service decided last November to allow some elephant carcasses from Zimbabwe to be brought to the U.S. as hunting trophies, a practice previously halted by the Obama administration. The service determined the killing of African elephant trophy animals in Zimbabwe "will enhance the survival of the African elephant."
After an outcry from both Democrats and Republicans, Trump then put the new import policy on hold and used Twitter to proclaim he was skeptical that "this horror show in any way helps conservation of elephants or any other animal."