Philippine Journalist Facing Charges as Duterte Goes After Media
(Bloomberg) -- President Rodrigo Duterte's government has intensified its campaign against critics in a move that's raising concerns about growing attacks on media freedom in the Philippines.
Online media company Rappler Holdings Corp. and its chief executive officer Maria Ressa -- who's a high-profile critic of Duterte -- are facing fresh charges of tax evasion. Justice Secretary Menardo Guevarra said the government plans to file a case against Rappler, Ressa and their accountant before the Court of Tax Appeals as early as Monday.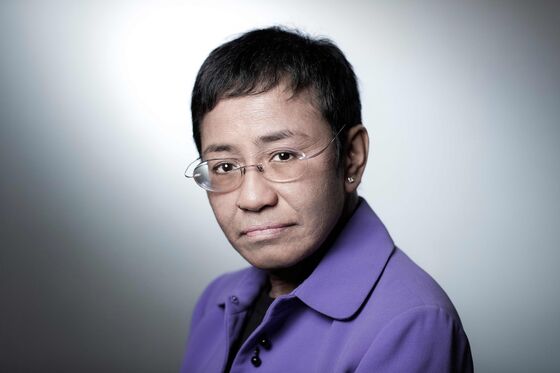 Earlier this year, the Securities and Exchange Commission ordered Rappler to shut down for allegedly violating foreign-equity restrictions in mass media. Rappler, which Duterte has banned from covering his events after calling it a "fake news outlet," continued to operate after the appellate court ordered SEC to review its findings.
"The brazenness is very much evident -- it sends a clear message to the media that if you don't toe the line, you will suffer the same fate as Rappler," said Danilo Arao, an associate professor from the University of the Philippines' journalism department. "This is a clear indication that the media is under attack right now."
The government alleged that when Rappler issued depository receipts, it gained close to 162.5 million pesos ($3.1 million) from the transaction which wasn't declared in its tax return.
Rappler denied the allegations, and has accused the government of harassment, intimidation and attempting to silence journalists. "This case against Rappler is a clear assault on press freedom in the Philippines and part of the Duterte government's attempt to evade scrutiny and accountability," Human Rights Watch director for Asia, Brad Adams, said in a statement.
The justice department's indictment on Rappler came hours after an anti-graft court on Friday found Imelda Marcos guilty and sentenced her to prison in a move that Duterte's spokesman said showed a "working and impartial justice system."
Duterte had been accused of targeting his enemies amid mounting economic woes, including Senator Leila de Lima who's been in jail since last year.