McConnell Offers Democrats a Short-Term Debt Ceiling Increase
(Bloomberg) -- Senate Republican leader Mitch McConnell offered Democrats a deal to raise the U.S. debt ceiling into December, which would alleviate the immediate risk of a default and could push it into an end-of-the year political fight.
Senate Majority Leader Chuck Schumer didn't respond publicly, but he called a meeting of Senate Democrats and is expected to confer with McConnell. The Senate meantime delayed an attempt to advance legislation to suspend the debt limit, which Republicans were poised to block.
McConnell's proposal would increase the limit on federal borrowing by a fixed dollar amount that would be sufficient to tide the Treasury over until December, when Congress would have to vote again to avoid a default. That vote could come at about the same time that Democrats are attempting to move a massive tax and spending package. That's also when Congress will have to act again to fund the government as part of regular fiscal-year spending, and avert a shutdown.
McConnell has demanded Democrats use a process known as reconciliation to raise the debt limit without Republican votes. Schumer has said there isn't enough time to do that, given forecasts that the government will run out of borrowing authority by mid-October.
"This will moot Democrats' excuses about the time crunch they created and give the unified Democratic government more than enough time to pass standalone debt limit legislation through reconciliation," McConnell said in a statement.
Although lawmakers in both parties say the U.S. must not be allowed to default, the debate over raising the debt ceiling is as much about the 2022 congressional elections as it is about policy.
McConnell is putting his offer out as a compromise, but it also would tie Democrats to raising a specific level of debt -- rather than a suspension as done under the Trump administration -- and that number can then be used in political attack ads in congressional election campaigns.
Even though most of the debt being covered was accrued under Trump, Republicans have been attempting to link the need to raise the debt limit to the trillions of dollars Democrats want to spend to enact most of Biden's domestic agenda.
"We need to know how much they're going to raise the debt limit by," John Thune, the No. 2 Republican in the Senate, said. "I think it's something that is important if you're actually worried about saving the country from the inevitable amount of massive amount of debt and spending and taxing that's going to come with their proposal."
Vermont Democratic Senator Patrick Leahy called the GOP move "just pure politics. It's stupid and it's wrong." 
Still, news of McConnell's offer helped propel a rebound in stocks, with the S&P 500 Index up 0.4% heading into the close after the gauge had tumbled as much as 1.3% earlier. Wall Street had become increasingly anxious this week over the risk of default. Goldman Sachs Group Inc. warned of a "real risk" of Congress failing to act in time before the Treasury's borrowing authority ran out.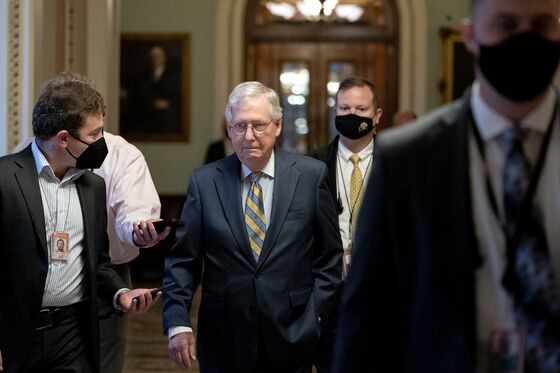 Several Democrats were cool to McConnell's proposal. Senator Mazie Hirono of Hawaii said she feels no pressure to support it.
"What kind of an offer is that?" she said.
Dick Durbin of Illinois, the No. 2 Democrat in the Senate, simply said "we'll see" if McConnell's offer works. 
But Senate Budget Chairman Bernie Sanders in comments to reporters appeared to open the door to using the budget-reconciliation process.
While Schumer had said there wasn't enough time to use reconciliation, a short term increase in the ceiling would provide that time. Budget experts have said using reconciliation would take about two weeks. Treasury Secretary Janet Yellen projects that the U.S. will reach its limit on sovereign debt on about Oct. 18. The Bipartisan Policy Center think tank on Wednesday put the estimated date of a payment default between Oct. 19 and Nov. 2.
A default could have catastrophic results for the economy that include raising the cost of borrowing by driving up interest rates, rattling financial markets and delaying Social Security payments to the elderly.
At a White House meeting of financial and corporate executives convened by Biden on Wednesday,  JPMorgan Chase & Co. Chief Executive Jamie Dimon said the effects of a default "would be cascading, so day one would be bad but the cascading effects in the ensuing weeks could go anywhere from a recession to a complete catastrophe for the global economy."