McConnell Gives Trump Cover for Challenging Vote Counts
(Bloomberg) -- Senate Majority Leader Mitch McConnell said President Donald Trump is "within his rights" to consider challenging results of the presidential election and has no obligation to accept projections based on vote counts that Joe Biden won.
McConnell and Republican leaders in Congress have withheld any congratulations or acknowledgment of the results since Biden took on the mantle of president-elect on Saturday.
In his first public remarks since then, McConnell said no states have certified the results of the election, even as he pointed out that Republicans won in Senate and House races they were expected to lose.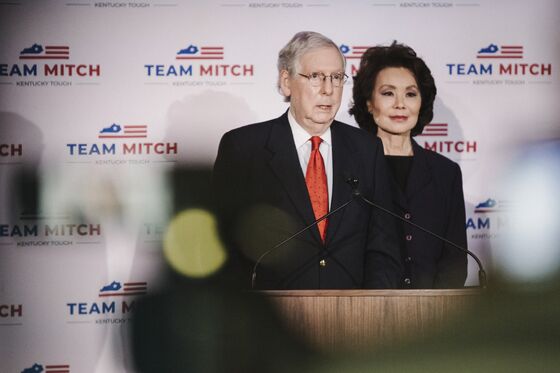 "We have the system in place to consider concerns, and President Trump is 100% within his rights to look to allegations of irregularities and weigh his legal options," McConnell said Monday on the Senate floor.
McConnell and most other top congressional Republicans haven't repeated Trump's unsubstantiated claims of widespread vote fraud.
Texas GOP Senator John Cornyn, asked whether he saw evidence of improper voting or tabulations, said he didn't begrudge the president using the process to challenge the outcome.
"In the end they're going to have to come up with some facts and evidence," he said. "But that's not my job, that's his campaign's job."
Senator Lindsey Graham of South Carolina, a close Trump ally, said he encouraged the president not to concede.
"The election is not over until the votes are counted and the legal challenges are decided," Graham said.
Biden was leading Trump in the national vote by about 4.5 million ballots out of 147 million cast. He had 290 Electoral college votes -- 270 are needed for election -- based on projections by television networks and the Associated Press. Whether the Trump campaign will follow through with threatened legal actions in places like Pennsylvania and Georgia, and to demand a recount in Wisconsin -- is unclear.
Other prominent members of the GOP, including former President George W. Bush have offered congratulations to Biden, as have business groups usually aligned with Republicans.
Trump still exerts a powerful hold on the party that many Republicans expect will endure past his time in office. Going into the election, 95% of Republicans said they approved of his performance as president, according to Gallup, and exit polls showed 93% of Republicans voted to re-elect him.
The GOP also is looking to energize its voters leading up to the Jan. 5 runoffs for two Senate seats in Georgia that will determine whether the Senate will remain in Republican hands. Both of the incumbent GOP senators, David Perdue and Kelly Loeffler, closely aligned themselves with Trump in their election campaigns. Democrats could gain Senate control if they win both seats.
Senate Democratic leader Chuck Schumer called the refusal of many Republicans to acknowledge the election results "poisonous to our democracy."
He said, "Republican leaders must unequivocally condemn the president's rhetoric and work to ensure the peaceful transfer of power on January 20."
There are signs that the reluctance to recognize the results might not last much longer.
Former New Jersey Governor Chris Christie, a Republican and Trump ally, said many in the party are willing to give Trump more time -- at least for now.
Trump's base doesn't want him to concede, but at some point his lawyers will have to either present evidence that vote counts were wrong or fraudulent or give up the fight, Christie said Sunday on ABC's "This Week" program.
"I'm hoping that more Republicans move in the direction of saying, not that we don't support the president -- he's been a friend of mine for 20 years -- but friendship doesn't mean that you're blind," Christie said. "If they don't come forward with the -- with the proof, then it's time to move on."