McConnell Says Senate Will Act on Judges Quickly After Election
(Bloomberg) -- Majority Leader Mitch McConnell said the Senate will move quickly after the Nov. 6 election to confirm more of President Donald Trump's judicial nominees even if that means holding the chamber in session longer than scheduled.
"We're going to clear the calendar of judges," he said Tuesday in an interview with Bloomberg News.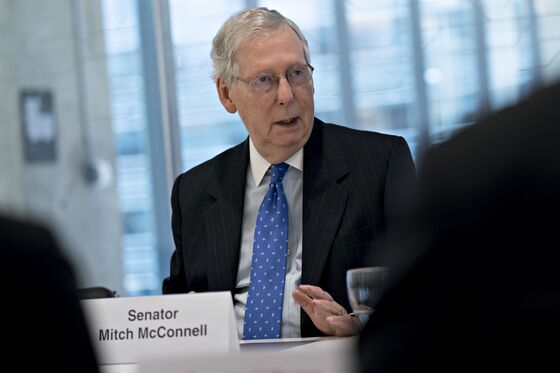 The Kentucky Republican warned that if Democrats "choose to make it difficult, that could keep us here for quite a while after the election."
The Senate has already confirmed 84 of Trump judicial nominees for life-tenured seats on U.S. courts, including 53 district court judges, 29 circuit court judges and two Supreme Court justices. It's an unusually fast pace for a president's first two years — by contrast, President Barack Obama got 62 judges confirmed over the same period of his presidency.
"It's the single most important thing we've done," McConnell said of the GOP's reshaping the courts. "I hope we'll have another couple of years to do more of this."
The November midterm election will determine control of Congress for the next two years. While polls indicate Democrats are well positioned to gain a majority in the House, their path to overturning Republican control of the Senate is much steeper. If they were to succeed, it's likely Trump's judicial nominations would be blocked.
Senate Judiciary Chairman Chuck Grassley, an Iowa Republican, has scheduled a committee meeting on Wednesday to advance six more judicial nominees — one for a circuit court and five for district courts — over the objections of Democrats.
The new judges are mostly in their 40s or 50s, and are picked with help from the Federalist Society, a conservative group that advocates for an originalist legal philosophy that seeks to limit the federal government's ability to assert powers that aren't explicitly enumerated in the Constitution.
McConnell said he has "no idea" if the Supreme Court will overturn the 1973 Roe v. Wade ruling now that Justice Brett Kavanaugh has been confirmed to the high court. His confirmation solidifies a majority that conservatives hope will undo or substantially weaken the ruling that made abortion a constitutional right.
While the majority leader declined to say whether he wants to see the court overrule the decision, he said he expects more legal battles over abortion.
"I've consistently voted pro-life in the Senate during my career. But ultimately the court decided this was a constitutional issue 43 years ago, and I think it will continue to spark litigation," he said. "It never really settled the issue if you look at American public opinion on that subject."
The issue of abortion rights was highlighted by many Democrats in their opposition to Kavanaugh. During his confirmation hearing, the nominee called Roe an "important precedent" and said the 1992 Planned Parenthood v. Casey ruling that reaffirmed Roe was a "precedent on precedent." He said he understood the real-world consequences of those decisions, but refused to say whether he believed Roe was correct. He was confirmed 50-48.
Kavanaugh also defended an opinion he wrote as a federal appeals court judge, siding with the Trump administration in a fight with an undocumented immigrant teenager seeking to end her pregnancy while in federal custody.
In his dissenting opinion, Kavanaugh said the court was establishing a right to "immediate abortion on demand" — a phrase used by opponents of the procedure. He said he would have blocked the girl, who was 15 weeks pregnant, from having an abortion for at least another week. The government said it was trying to find a sponsor for the girl so that officials wouldn't have to "facilitate" her trip to an abortion clinic. The girl later had the procedure.